Article
Rocscience joins hands with Reutech Mining
Published on: Oct. 01, 2020 Updated on: Jul. 20, 2022
4 minutes read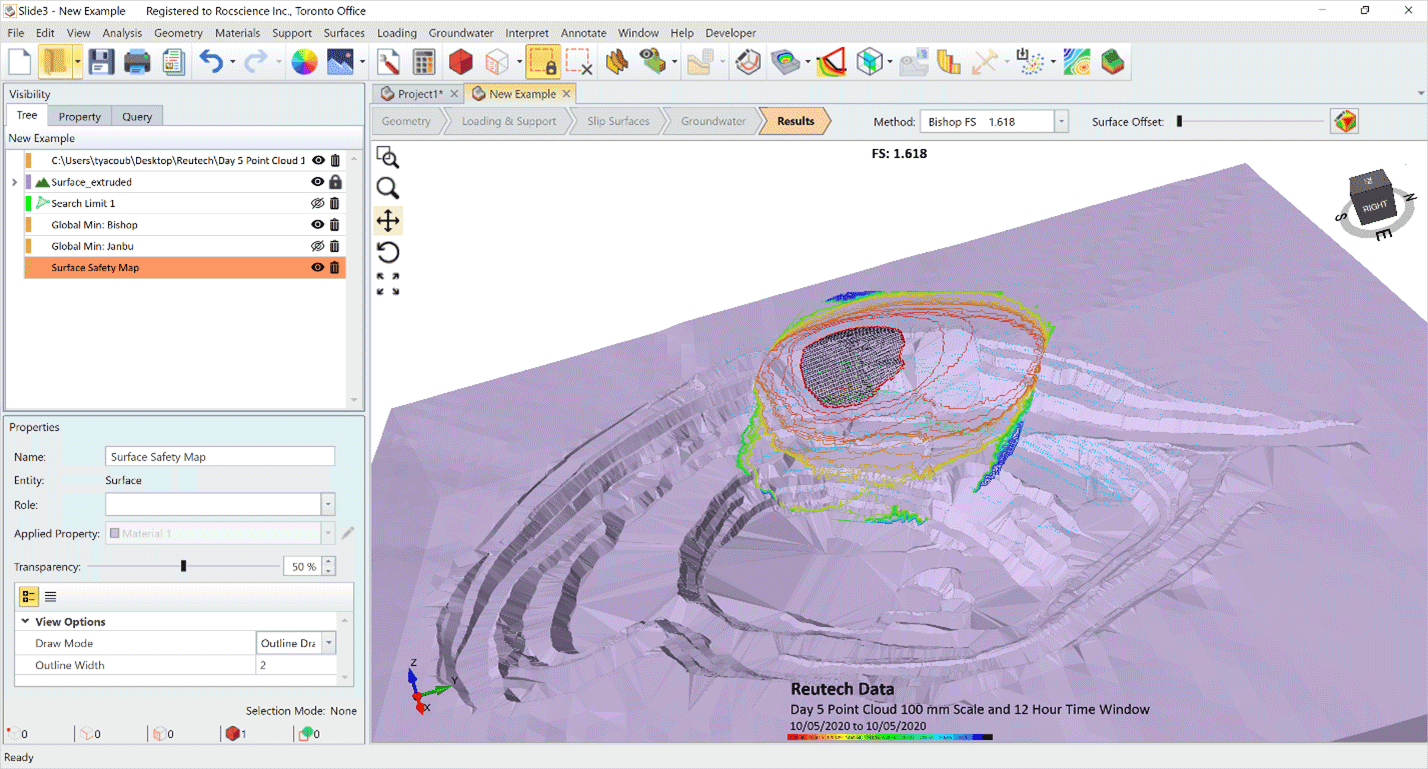 October 2020
Strengthen your Slide3 and RS3 analysis with deformation data from the Movement and Surveying Radar (MSR) suite from Reutech Mining
Toronto, ON: Announcing the much-awaited partnership between Rocscience and Reutech Mining with Slide3 and RS3 now integrating deformation monitoring data from Reutech Mining's MSR series. The unique selling proposition of the MSR series lies in its lossless data compression algorithms combined with high-speed wireless communication hardware that provides instant remote access, no matter the environment.

Known to provide highly customizable solutions, the MSR series produces its own high-resolution true 3-Dimensional point cloud using real aperture radar (RAR) interferometric technology. The MSR series specializes in the identification of finite failure mechanisms that do not rely on Digital Terrain Models or camera images.
With a scan speed of a maximum of 40 degrees per second for the MSRModular range and a 2-second aerial scan time for the MSRIV Esprit, these systems are designed to cover large areas within a very short time period and have a highly repeatable scan functionality. The advanced parallel computing architecture can process the x, y, and z data for visual and trend plot assessment while actively scanning, making slope deformation data and therefore alarm exceedance alerts to be available immediately.

The upcoming Maintenance+ update of Slide3 and RS3 will allow users to import the deformation data from the synthetic map of the MSR series and overlay them onto their models to accurately analyze the Factor of Safety (FoS) and Probability of Failure (PoF) of their projects. This feature will also prove to be an asset while managing instability risk when monitoring sites and assessing models prior to, during, and after excavation to safeguard from the plausible event of the slope being compromised due to design, implementation, or rock mass failure.
Rocscience and Reutech Mining are two organizations that share the same thoughts in that the user of our software should be empowered with the latest technology and hence, this partnership towards the convergence of numerical modelling with radar data is testimony towards the common goal of achieving "intelligent slope design". Geotechnical Engineers will benefit from this association as they now have more cutting-edge tools in hand to perform high-end calibration.
It is this calibration component of the design process that is paramount for assessing both the design criteria and the anticipated versus the actual documented response of the pit slope to excavation. Often, adjustments are required to the design as the slope is developed, either for optimization of the slope or for the mitigation of instability.
The Maintenance+ update of Slide3 and RS3 scheduled for October 2020 will include MSR Modular data integration from Reutech Mining. You can get started on using Slide3 and RS3 immediately with a free trial.
About Reutech Mining: Reutech Mining is a passionate company dedicated to developing, manufacturing, and distributing innovative technologies for the management of safety within the mining industry. We have been at the forefront of technological innovation for mining safety for more than a decade. Since 2006, the company has focused on providing and improving real-time mine safety for surface and underground applications, as well as contributing towards notable increases in the production output of a large number of mines globally.
About Rocscience: Founded in 1996, Rocscience is a world leader in developing 2D and 3D software for civil, mining, and geotechnical engineers. For over 20 years, we've built on leading-edge research to create the best geotechnical software available. As engineers ourselves, we know the importance of having reliable and easy-to-use software. That's why we constantly develop and refine our programs to make expert solutions that work for you.
More from Rocscience