Article
Rocscience and IDS GeoRadar continue to strengthen relations
Published on: Sep. 08, 2021 Updated on: May 18, 2023
3 minutes read
Slide3 Safety Maps can now be imported into Guardian

June 14, 2021, Toronto, Canada: Rocscience and IDS GeoRadar first joined hands in 2018 when deformation monitoring data from IDS's monitoring radars were integrated into Rocscience's popular 3D software – Slide3 and RS3. This integration was the first of its kind in the industry and paved the way for radar data to support numerical modelling. And in 2019, RS3 and Slide3 added the ability to import live radar monitoring data into RS3 and Slide3, propelling the scope for intelligent slope design.
In their latest step to enable and empower users to take on more complex slope stability projects, Rocscience and IDS GeoRadar have worked together to bring Slide3 Safety Maps into Guardian.
Slide3 is Rocscience's 3D Limit Equilibrium tool that allows geotechnical engineers to calculate the factor of safety of complex 3D slope stability geometries. Users can accurately calculate failures in any direction without the need for defining the direction in advance, increasing efficiency in modelling and analysis.
On the other hand, Guardian by IDS GeoRadar is a software that manages slope stability risks in both geo-hazard assessments and open-pit mining operations. Guardian enables fast interpretation and therefore fast reaction time to vital real-time information delivered by the IBIS and Hydra radar systems.
Users of Slide3 and Guardian can now easily export Safety Maps and Contour Maps from Slide3 in the form of a CSV file. The file can then be imported into Guardian for further analysis. Users will have the option to import one or more Factor of Safety maps then visualize in 3D over the Displacement/Safety map one of the imported Factor of Safety map to cross-compare the Slide3 simulation results with the radar measurement.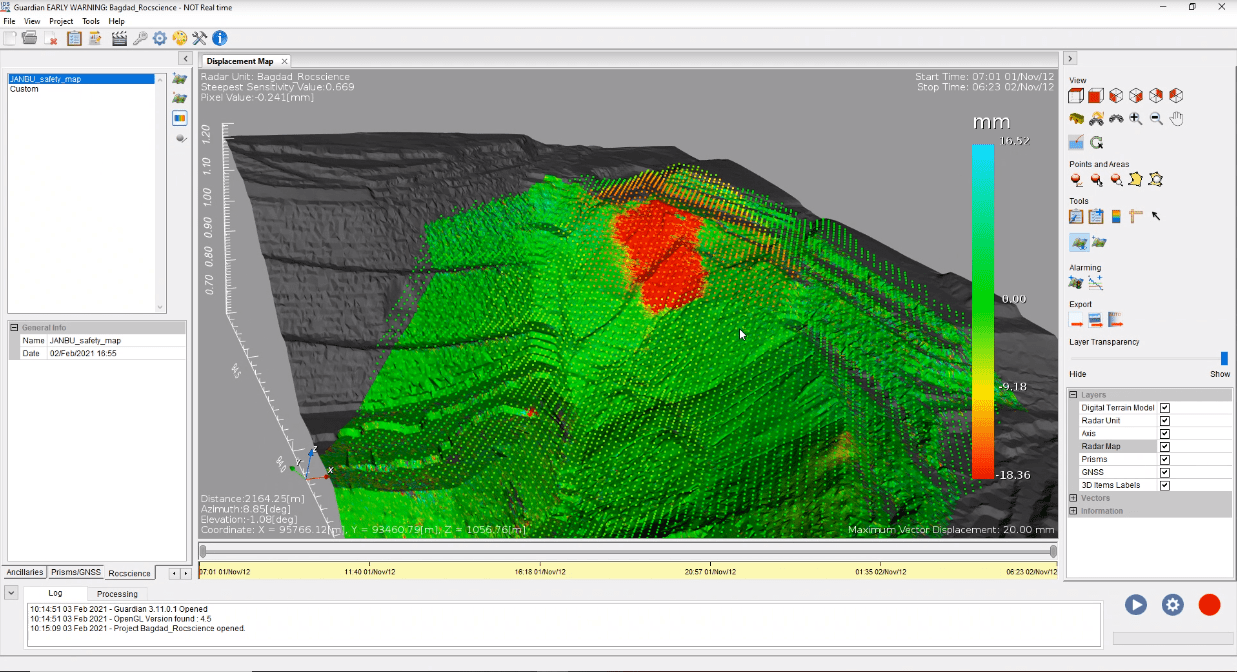 "By closing the loop between radar monitoring and slope stability modeling, we make a significant step forward towards a live monitoring-to-modeling approach" explains Niccolò Coli, VP MineMonitoring at HxGN and Managing Director at IDS Georadar.
"At Rocscience, our goal is to create more value for our users," says Dr. Thamer Yacoub, CEO and President of Rocscience Inc. "and with such product integrations we are enabling our users to bridge the gap between real data and modelling data, thus allowing them to achieve more reliable results."
About Rocscience:
Founded in 1996, Rocscience is a world leader in developing 2D and 3D software for civil, mining, and geotechnical engineers. For over 20 years, we've built on leading-edge research to create the best geotechnical software available. As engineers ourselves, we know the importance of having reliable and easy-to-use software. That's why we constantly develop and refine our programs to make expert solutions that work for you.
About IDS GeoRadar:
IDS GeoRadar, part of Hexagon, provides products and solutions, based on radar technology, for mining, civil engineering, and monitoring applications. The company is a leading provider of Ground Penetrating Radar (GPR) and Interferometric Radar solutions worldwide. IDS GeoRadar is committed to delivering best-in-class performance solutions and to the pursuit of product excellence, through the creation of application-specific, innovative, and cost-efficient systems for a wide range of applications including mining, utility detection, and mapping, civil engineering, geology, archaeology, and public safety.
More from Rocscience