Article
NorSand in RS2: An Advanced Constitutive Material Model
Published on: Mar. 19, 2019 Updated on: Jul. 05, 2022
3 minutes read
Rocscience is excited to announce the addition of NorSand to RS2's already impressive arsenal of constitutive models. The addition is the first practical implementation of NorSand in a commercial geotechnical finite element analysis software program.
What is NorSand and Why Use It?
NorSand is a generalized critical state model that accurately captures the effect of void ratio on soil behaviour. It is therefore capable of modeling static liquefaction within a sound engineering framework. A prominent feature of soil is that it exists over a spectrum of void ratio and that the actual void ratio (or relative density) affects the mechanical behavior of soil. NorSand is an appropriate constitutive model for soil in that it explains the changes in soil behavior caused by changes in its void ratio.
NorSand falls within the framework of Critical State Soil Mechanics (CSSM), with the framework's most widely taught model being Modified Cam Clay (Roscoe & Burland, 1968). CSSM is based on two axioms: 1) the presence of a unique locus of failure that is called the "Critical State Locus" or CSL, and 2) the fact that shear strain moves soil towards the CSL.
The basic problem with Modified Cam Clay, when applied to sands, is that it cannot capture the dilation behavior that is observed for dense sands. Additionally, it is a poor predictor of the behaviour of loose sands and cannot handle liquefaction-related problems in particular. The main advantage of NorSand is the consideration of a state parameter that is the difference between the soil's current void ratio and that of its critical state. The dilation or compaction of soil is then uniquely related to the state parameter.

NorSand in Practical Geotechnical Engineering

NorSand has the attribute of being easily used by practical geotechnical engineers. It uses few material properties, which are easily measured in conventional laboratory tests, and can capture the many aspects of soil behaviour over a wide range of density and confining stress. The main additional parameter over what is needed to define a Modified Cam Clay model is the state parameter. In situations where accurate representation of volume change is important, the additional effort in the parameter determination is more than justified.
NorSand is a CSSM model developed for sand and originated from observations about sand behaviour in large-scale hydraulic fills (tailing dams). However, the model is particulate and applicable to any soil in which particle-to-particle interactions are controlled by contact forces and slips rather than bonds. Current applications of NorSand range from well-graded tills through sands to clayey silts.
NorSand in RS2
The following images show the implementation of the NorSand model in RS2.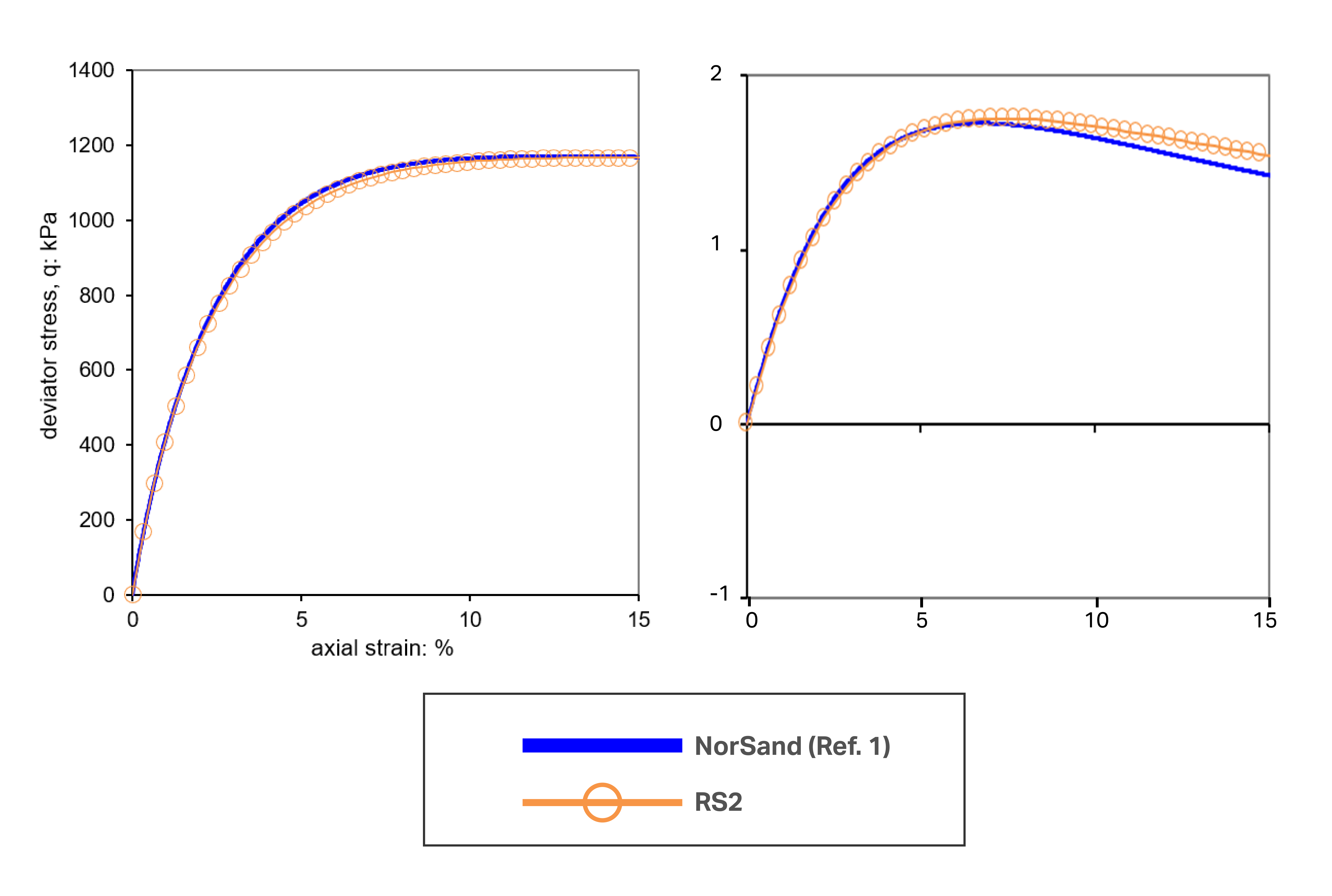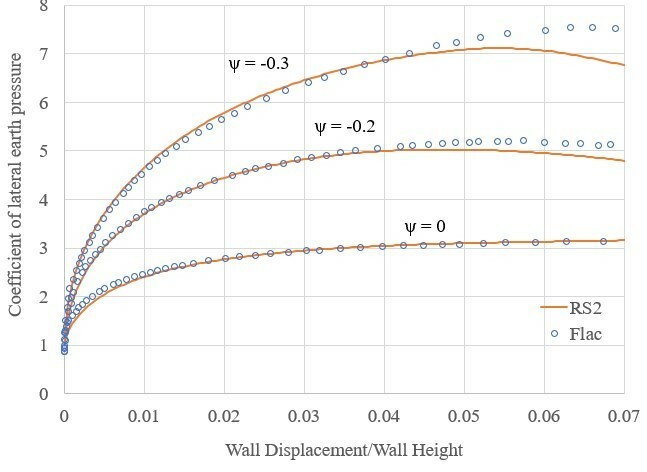 Further Reading
Michael G. Jefferies. "Nor-Sand: a simple critical state model for sand." (January 1993). Géotechnique 43, 91-103.
Dawn Shuttle and Michael Jeffries. "Norsand: Description, Calibration, Validation and Applications." January 2005.
More from Rocscience