Article
How can Structural Engineers benefit from RSPile?
Published on: May 10, 2023 Updated on: Sep. 20, 2023
3 minutes read
RSPile has come a long way since its inception as a simple program called "Driven." Today, it stands as a sophisticated pile analysis software specifically designed to cater to the needs of pile designers and structural engineers intending to check sections of compression members. With each new release, we strive to enhance its capabilities, making it an indispensable tool for pile designers in their everyday work.
Comprehensive Pile Analysis Features
RSPile encompasses a wide range of powerful features for analyzing both individual piles and pile groups. It provides capacity calculations for driven and bored piles, a capacity table generator, individual and multi-pile analysis, as well as group analysis. Additionally, RSPile offers a host of routines and tools that streamline various aspects of pile design.
Empowering structural design, we are thrilled to announce that RSPile now incorporates several structural design features, making it an invaluable asset for pile designers and structural engineers alike. With these new capabilities, RSPile enables users to perform structural design of reinforced concrete section with more tools.
Reinforced Concrete Sections
RSPile introduces a dedicated section detailing design section tab for reinforced concrete circular and rectangular sections. This interactive and user-friendly interface allows you to design your sections efficiently.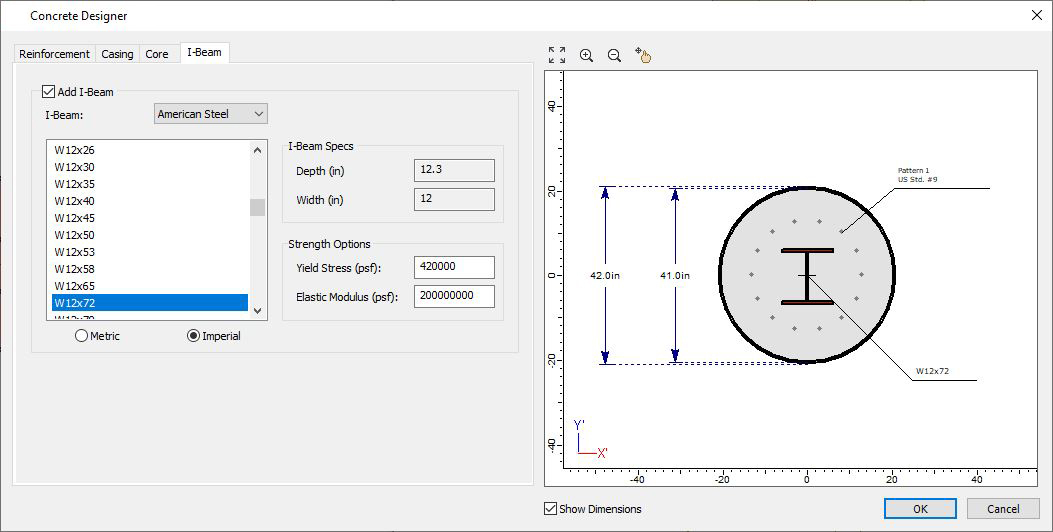 Flexible Pile Construction and Analysis
The pile type editor in RSPile empowers you to construct your pile with multiple sections and customize reinforcement distributions effortlessly. This flexibility enables you to model and analyze piles accurately according to your project requirements.
Interaction diagrams
Investigating and constructing interaction diagrams is easy. The software offers a robust platform for generating factored and unfactored diagrams, encompassing axial load and biaxial bending. Concrete stress strain curve models such as Modified Hognestad and Whitney block methods are available and users can set design standard factor for M and P or use ACI 318 factors. Moreover, you can visualize these diagrams in a 3D format, gaining comprehensive insights into the structural behavior of the pile elements.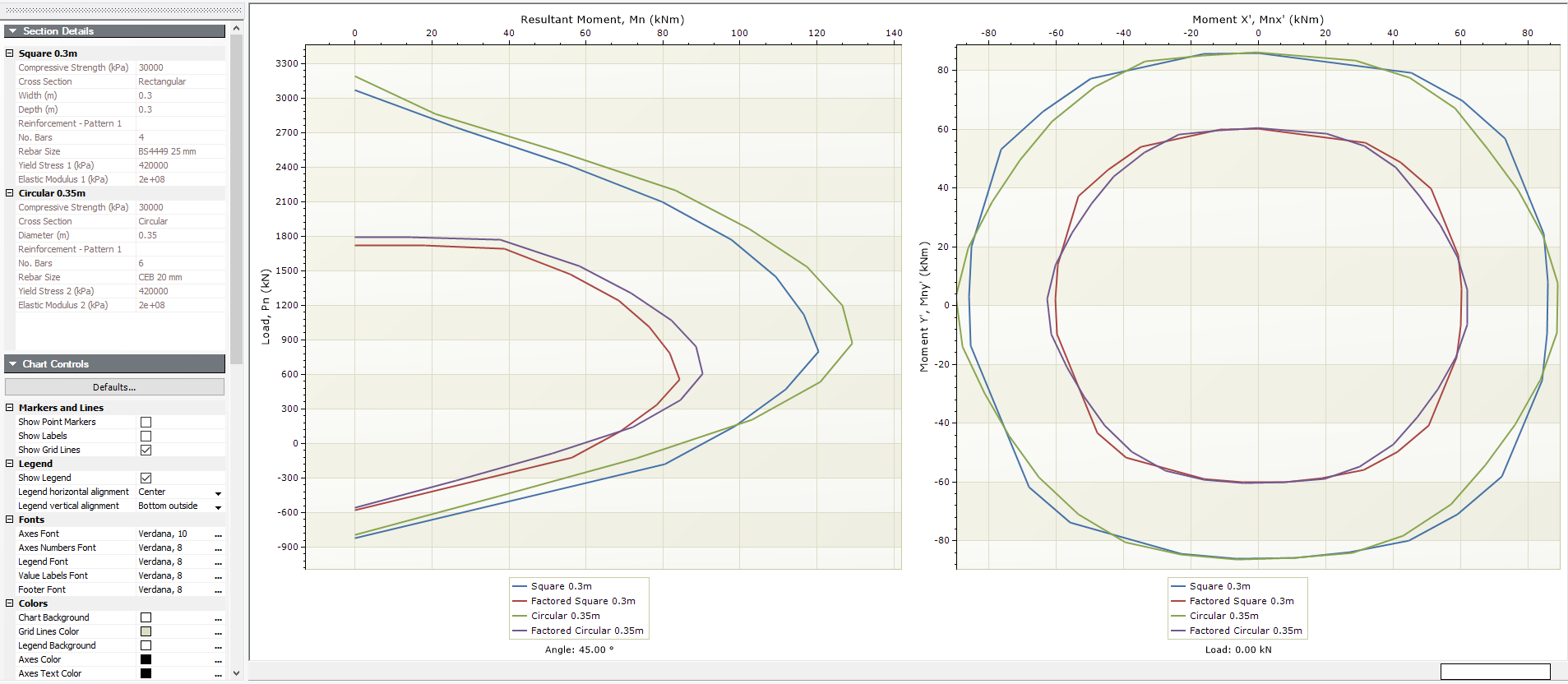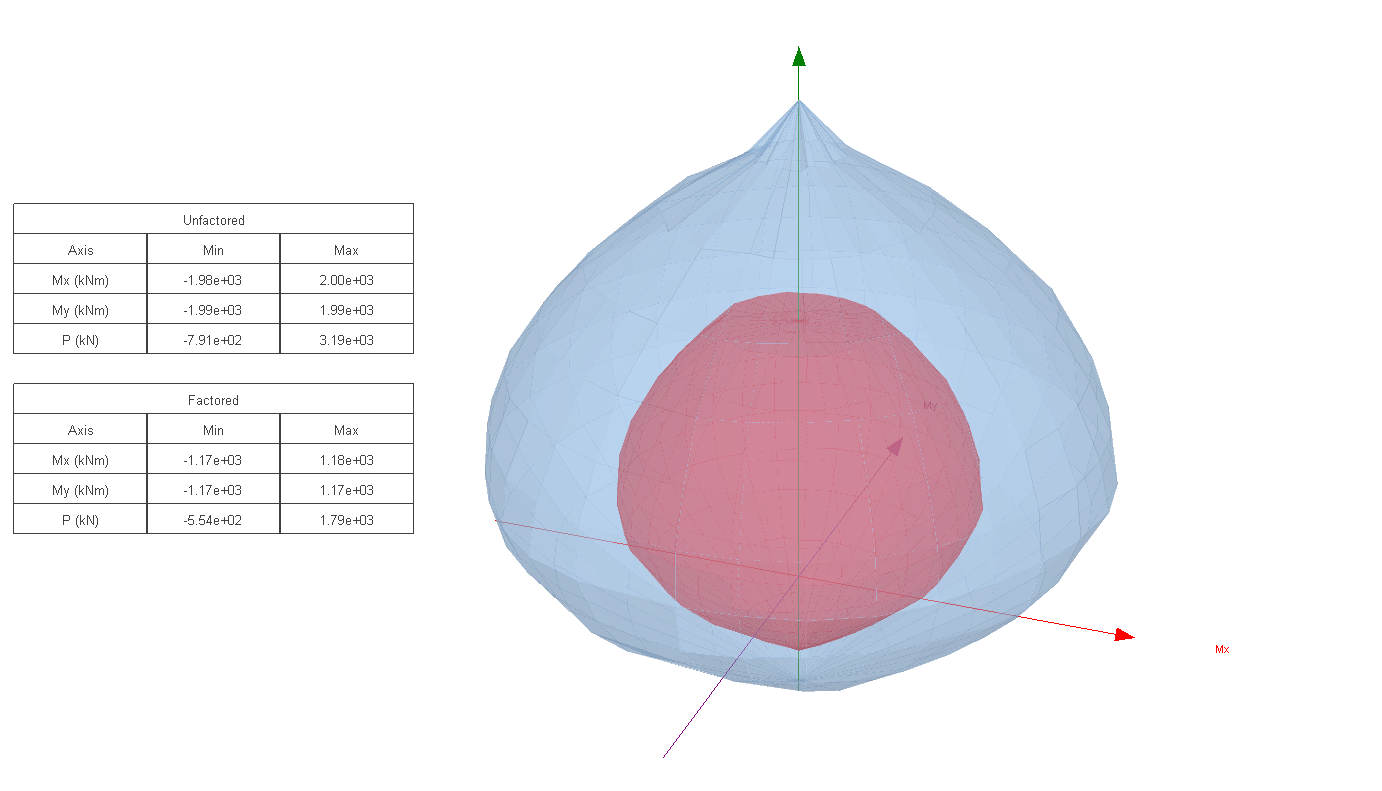 Capacity Ratio Calculation
Ensuring the structural capacity of your sections is of paramount importance. RSPile now features a capacity ratio calculation tool that checks moment-load points against the factored interaction surface. By identifying red cells for the locations that fall outside this surface, the software highlights sections that require redesigning, enabling you to maintain structural integrity.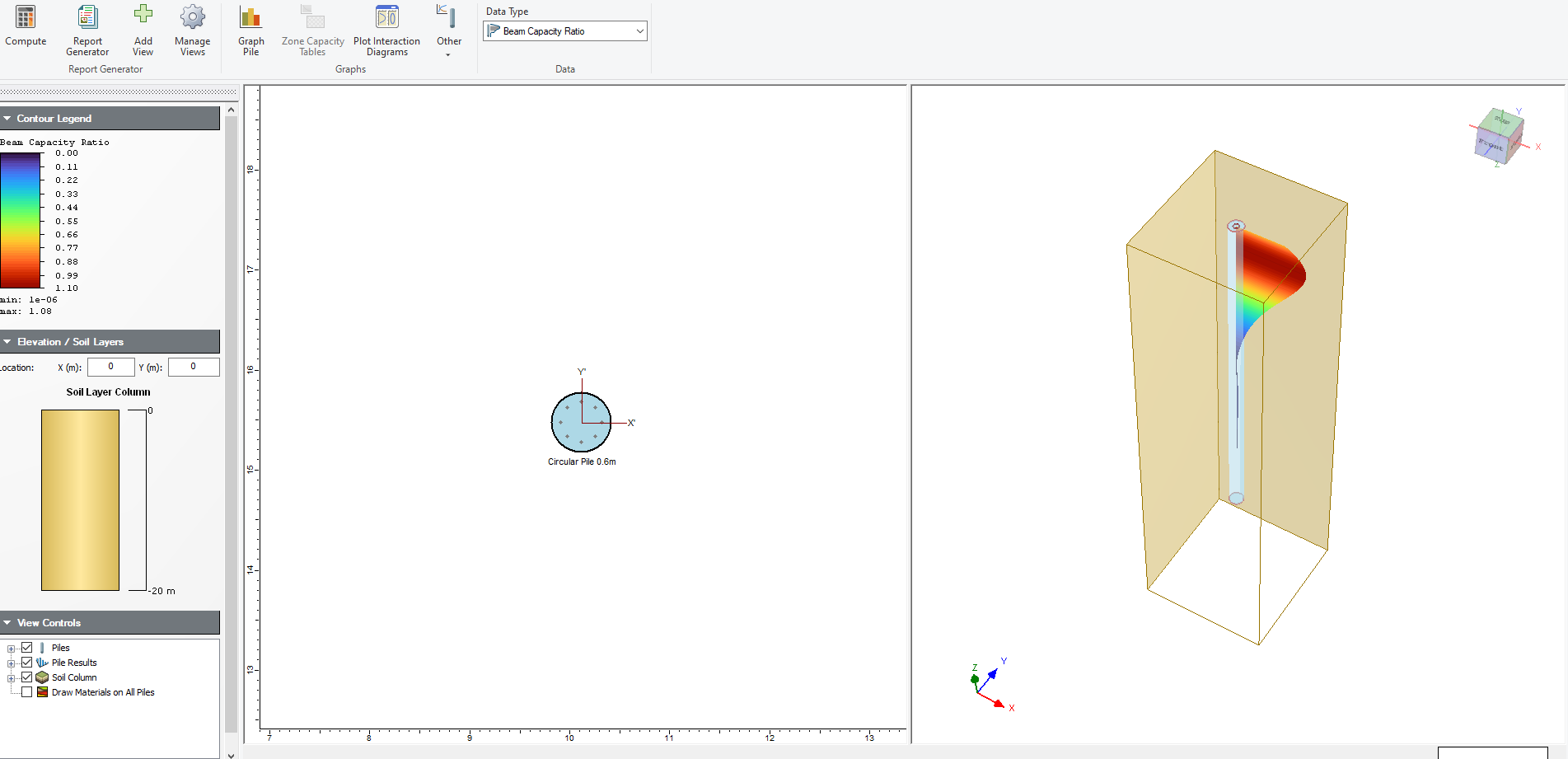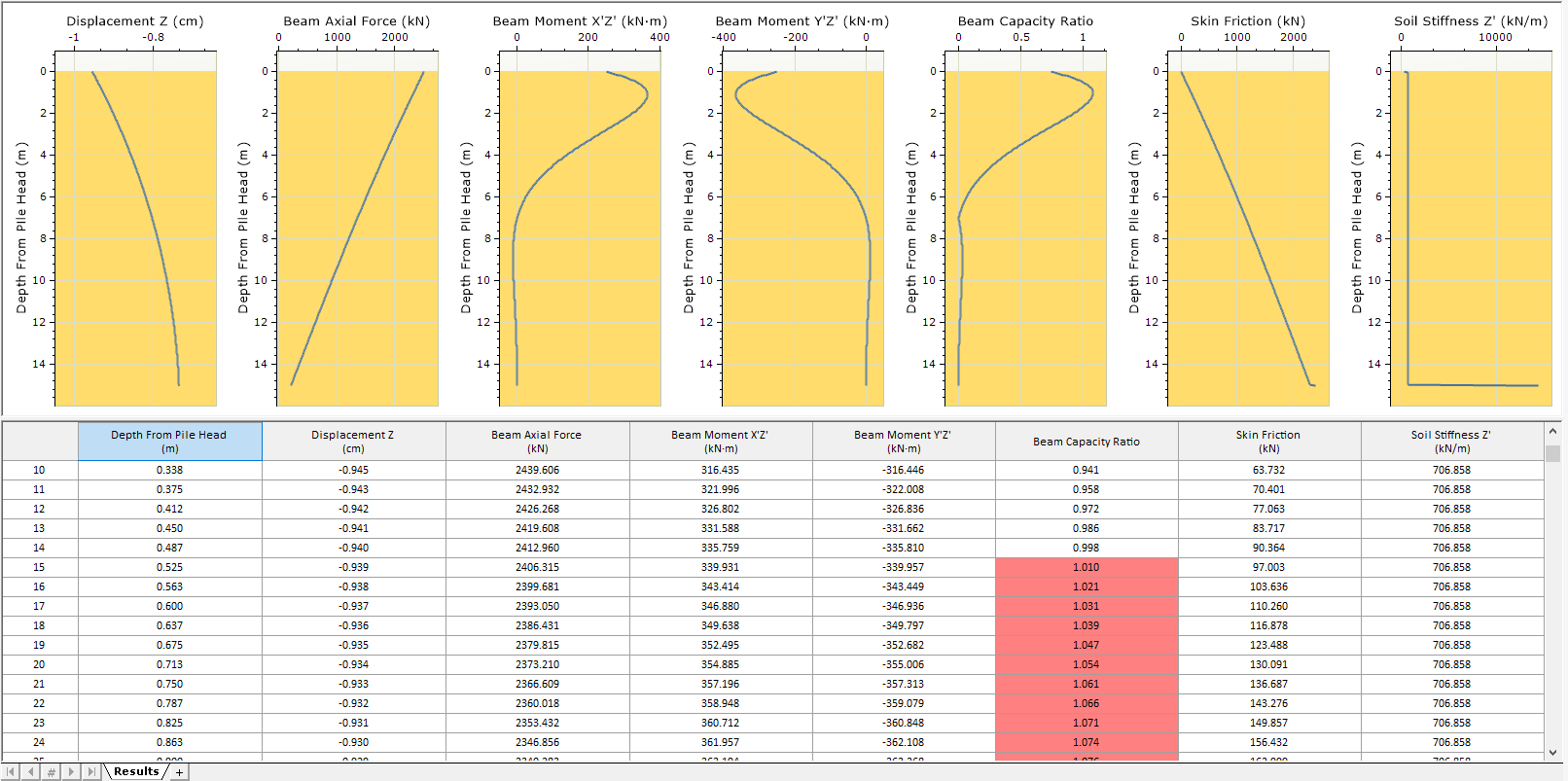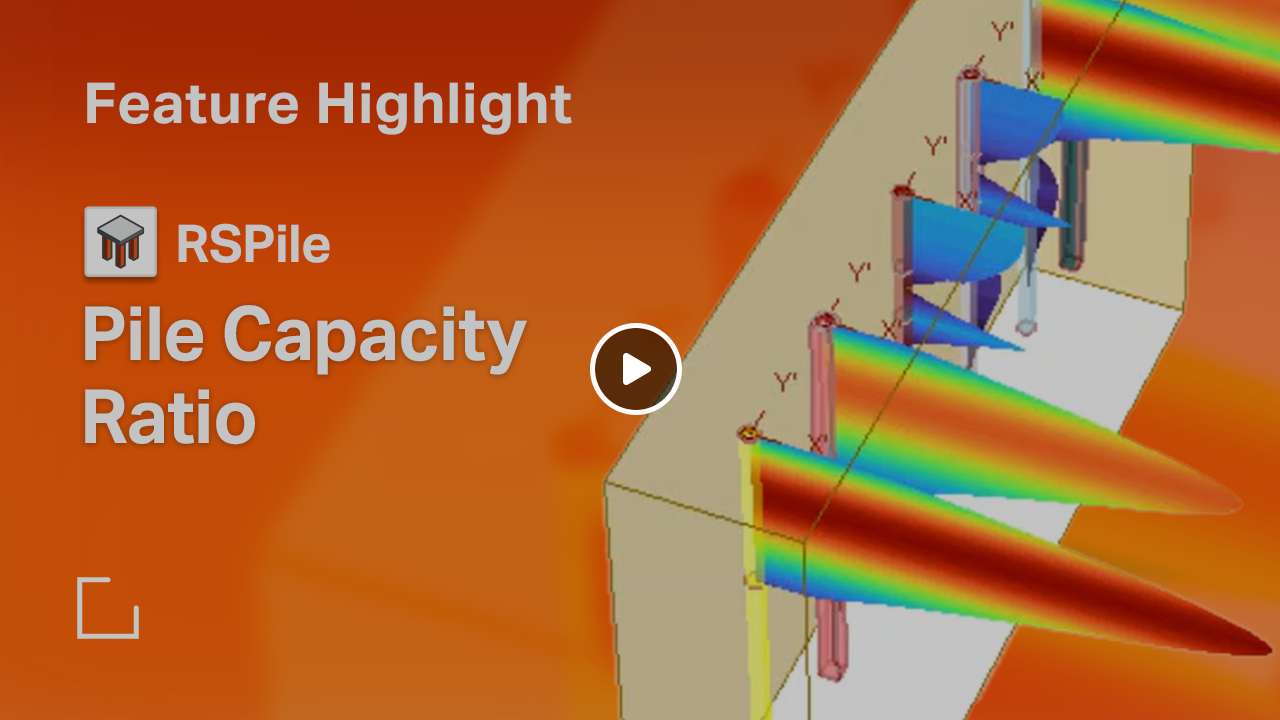 A Game-Changer for Structural Engineers
RSPile's evolution marks a significant milestone, as it transforms from being solely a geotechnical engineering tool to a valuable resource for structural engineers as well. When compared to available software for column design, RSPile stands out as one of the best choices for structural design of sections for rectangular and circular compression members. Whether you are a seasoned professional or using the program for the first time, RSPile's interactive and user-friendly interface ensures a seamless user experience throughout the design process.
RSPile offers a great solution for structural engineers involved in pile and structural design. Take advantage of this ultimate structural design tool and witness its transformative impact on your projects.
1 Authors:
Ahmed Mufty, Geomechanics Specialist at Rocscience
More from Rocscience