Article
Rocscience Announces the Addition of PFEIFER ISOFER Rockfall Barriers to RocFall2
Published on: Jun. 05, 2019 Updated on: Nov. 09, 2023
2 minutes read
Rocscience is excited to announce the addition of PFEIFER ISOFER rockfall barriers in RocFall2. The addition of these pre-defined barriers to the RocFall2 Barrier Design Library, with associated properties and MEL/SEL test data, significantly enhances the program's barrier analysis capabilities and improves the accuracy of its rockfall mitigation tools.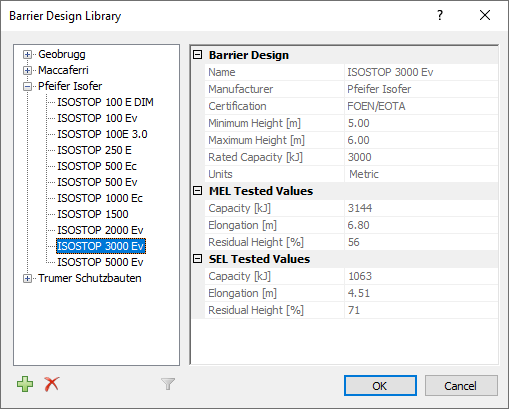 PFEIFER ISOFER AG is a recognized expert in technical protection against natural hazards, a safety issue in all mountainous regions. As pioneers, PFEIFER ISOFER first specialized in protective systems 30 years ago. Today, with the experience of over 1000 rockfall protection projects, the company offers a comprehensive range of products that extends from certified barriers to customized solutions.
The headquarters in Switzerland develop state-of-the-art, technologically exemplary protective systems that are delivered all over the world. PFEIFER ISOFER offers its customers needs-based rockface covering systems and specialized barriers for protection against rockfalls, avalanches, or mudflows. The barriers are quality-certified according to the strict criteria of the Swiss directive on type testing as well as the European directives ETAG027 and EAD 340059.
The expertise of PFEIFER ISOFER in the field of effective and efficient flexible rockfall protection systems is based on more than 30 years of full-scale field testing on more than eight test sites covering various testing conditions. PFEIFER ISOFER protection systems cover impact energies ranging from 100 to 5,000 kJ. Special conditions are also met, for example, the 100-kJ system that doesn't need any additional rope anchors apart from the post-fixation.
You can look forward to the release of PFEIFER ISOFER rockfall barriers in RocFall2 this September.
*Image courtesy of PFEIFER ISOFER website
More from Rocscience