Product Announcement
The Latest Features in Dips
Published on: Jul. 12, 2021 Updated on: Feb. 08, 2022
3 minutes read
Dips is a dynamic stereographic projection program designed to help you better understand your projects. Dips can be used for applications such as excavations, mining, rock slopes, and tunnels.
Stay up to date with the latest features and integrations that you can incorporate into your geotechnical projects.
April 2021
Dips Import Wizard
The Rocscience program Dips is a popular stereographic projection tool designed for the interactive analysis of orientation-based geological data. This April, Dips is introducing a speedy new feature to its roster with the Dips Import Wizard, a new tool that lets users spend less time on their data import, and more time on their analysis.
The primary input data options used in Dips are Traverse Information and Grid Data. The Traverse Information dialog can contain any number of traverse entries for each of the traverse types (Linear, Planar, Linear BH Oriented Core, Linear BH Televiewer, Curved BH Oriented Core, Curved BH Televiewer, and Clinorule). The Grid Data view is the main data table that can contain any number of orientation data and their corresponding characterizations.
Currently, users populate the Traverse Information and Grid Data in a very manual manner by either entering entries one-by-one, or by copying and pasting from cells in an Excel spreadsheet.
With the new Dips Import Wizard feature, users can quickly and easily extract almost any form of columnized Excel data and import them under the corresponding Dips column headers in Traverse Information and Grid Data. The Dips Import Wizard dialog is intuitive to use and guides the user through the process of selecting data types for import, import files, from where the data is extracted from Excel, and to where the data will be populated in Dips.
Users have the option to start the import process from scratch or from an Import Settings Template. The Import Settings Template is a useful component within the Dips Import Wizard feature, as it allows users to save and load settings from previously saved Dips Import Wizard selections. This makes the process of importing Excel files with identical column and row formats extremely efficient, as the user only needs to specify the template and corresponding import files when using the Dips Import Wizard.
Two predefined Import Settings Templates are also available in Dips which correspond to the exported Excel file formats of RockMass Technologies' Axis Mapper tool for recording scanline and spot measurements.
Various traverse types in Traverse Information and Grid Data can be imported as a standalone piece of data, or all at once–facilitated by a single process–without having to interact with any other Dips dialogs or views.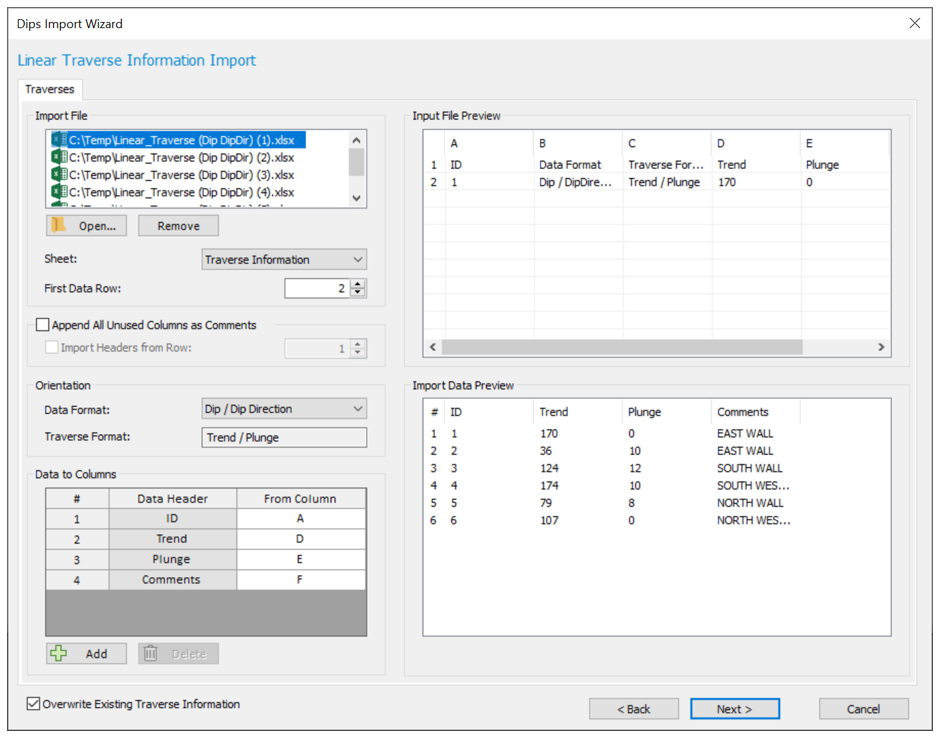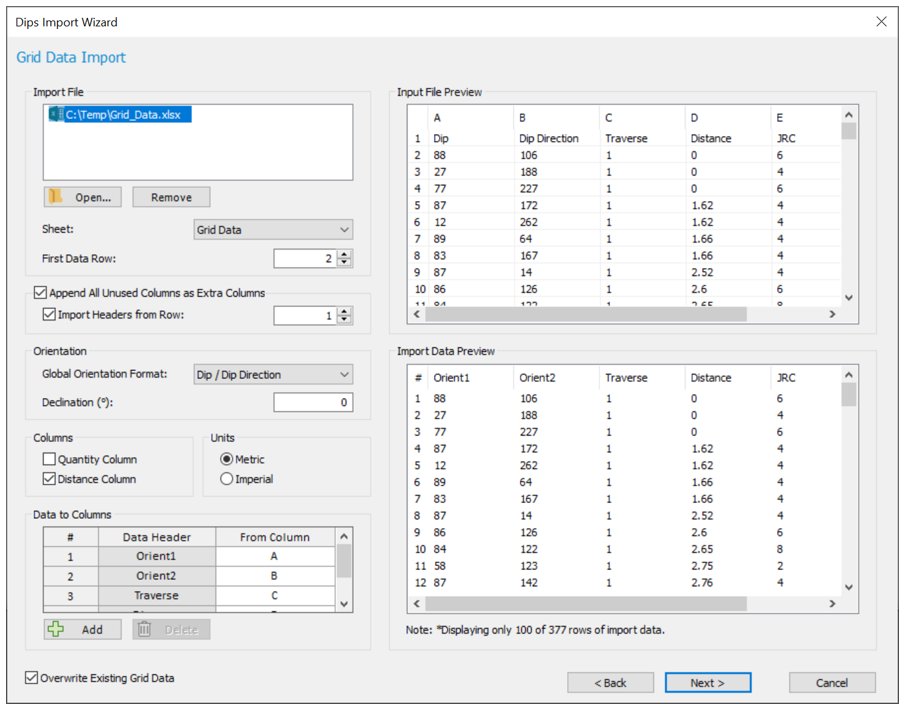 For any given data type, users can import from one or multiple Excel files and Dips will automatically compound the data. To keep the importer as general as possible, the user sets the Excel worksheet, the first data row, and the column to read from any import data. The user can also optionally append all unassigned data columns as "Comments" in Traverse Information or as extra columns (to the right of predefined columns) in Grid Data.

Dips: Dips Import Wizard dialog (Import Summary).
The Dips Import Wizard also offers advanced error detection when importing data to ensure that proper data validation (i.e., non-blank, numeric, unique, etc.) is performed prior to importing. If a user wants to add to existing Dips data, they can run the Dips Import Wizard multiple times and append the import data.
June 2020
Increased Computation Speed and Memory Management
This month, the program is being revved up to work faster than before. The new updates allow filters to be applied so the computation speed and memory management of Dips files can be optimized. Continuing with this theme of optimization, a new option to turn off the Auto-Requery Filters has been added so filters are not automatically required whenever changes occur. This change allows for more efficient computations when working with large sets of pole data.
Learn Dips
Explore the RSPile user guide for in-depth instructions on how to use the program and visit our library of learning resources, including case studies, past webinars, and articles, designed to expand your geotechnical knowledge and help you get the most out of your analysis.
More from Rocscience