Article
Geotechnical Engineering in the Face of the Pandemic: Enhancing Your Productivity with Technology
Published on: Sep. 08, 2021 Updated on: Jul. 05, 2022
3 minutes read
COVID-19 has radically changed the entire world; it enormously disrupted economies and lives. Geotechnical engineering was not spared. Before the pandemic, geotechnical specialists contended with challenges such as engineering tunnels in congested urban environments and designing mining excavations in high-stress environments. Now, like everyone, we are dealing with stay-at-home orders and workplace shutdowns, which are forcing us to work remotely.

The pandemic forced us to pivot to technologies, such as video conferencing to keep our businesses alive. These are now ubiquitous in our daily professional lives. However, technological advancements (in geotechnical software) can also help us thrive in the current environment and beyond. These include software tools that improve our productivity by allowing us to:
Model complex problems (such as 3D analysis of settlements of existing structures underlain by new underground excavations) with minimal fuss
Enhance the insights we gain from the limited data we have, and
Perform routine tasks very fast
Rocscience has made software improvements during this pandemic, including tools that implement novel critical solutions or improve how previous knowledge is applied to existing problems.
Africa is projected to experience rapid growth in the coming years, primarily driven by population growth and heightened demand to close infrastructure gaps. If African engineers are to enjoy a healthy piece of the proverbial pie, we must strengthen our skills and be at the cutting edge of using these tools.
Rocscience strongly feels that we must contribute to the betterment of geotechnical engineering by educating users and the community on performing work faster and more efficiently. As a result, we have designed several courses and workshops designed for busy engineering professionals. These courses teach modelling techniques that saving you time and money.
We also encourage you to share your innovations and ideas through this newsletter. We look forward to publishing your articles that highlight your modelling achievements and creative solutions.
Stay safe.
Dr. Reginald Hammah
Director of Rocscience in Africa
--
An Example of 3D Geotechnical Modelling.

The model examines a solution involving underpinning with piles to enable excavation of twin tunnels that pass underneath a group of piles that support a highway bridge. These simulations in RS3, Rocscience's flagship 3D finite element program, were based on a paper[1] describing an underpinning project in China.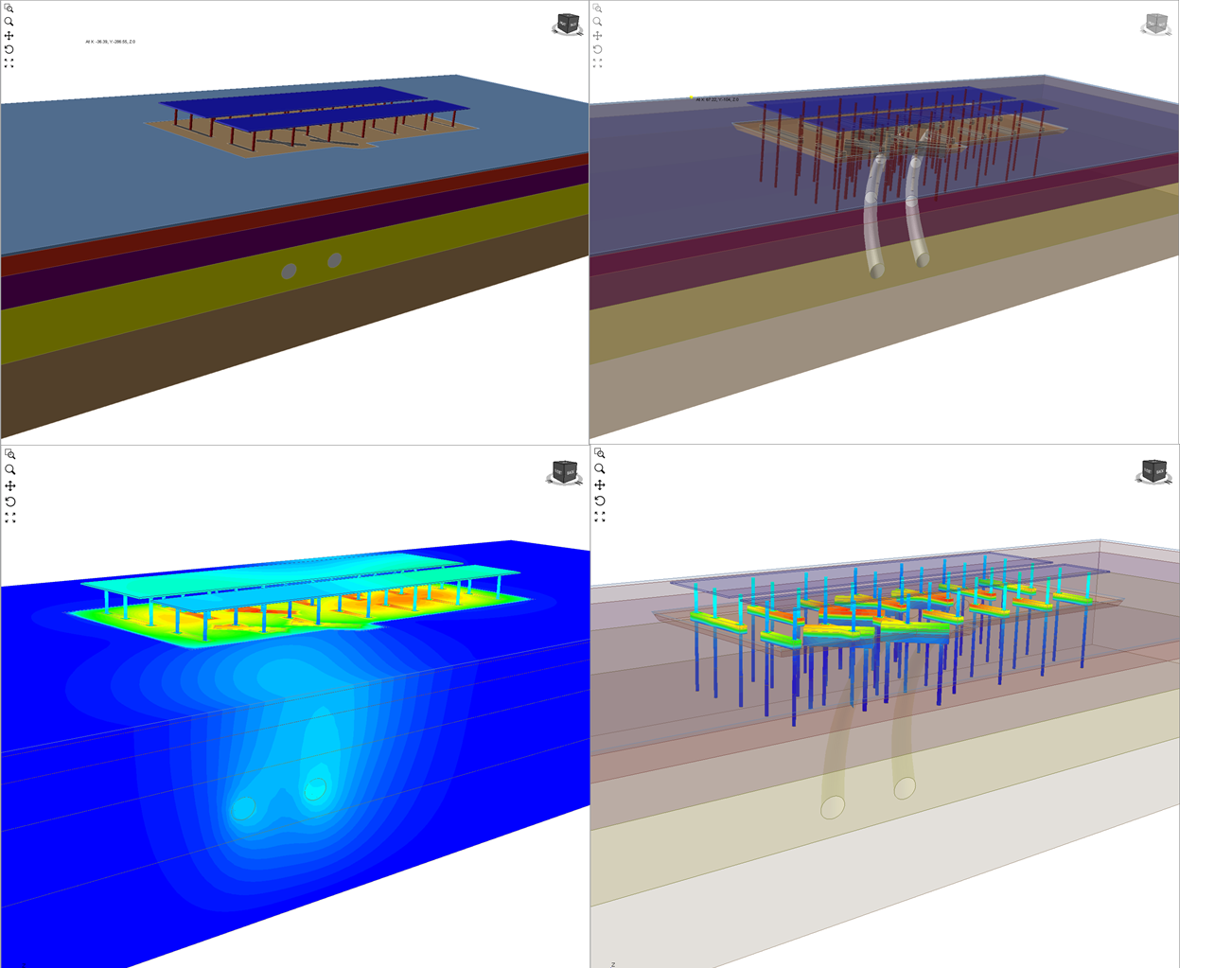 [1] Zheng Li, Ziquan Chen, Lin Wang, Zhikai Zeng, and Dongming Gu. Numerical simulation and analysis of the pile underpinning technology used in shield tunnel crossings on bridge pile foundations. Underground Space, Volume 6, Issue 4, August 2021, Pages 396-408
More from Rocscience