Manufacturer Library
If you are using geosynthetic supports, a manufacturer library of support types is available to assist with the input of the different support type properties (see end for full list of manufacturers).
To access the Manufacturer Library:
1. In the Define Support dialog, select the Manufacturer Library button.
2. You will see the Manufacturer Library dialog, which allows you to choose the specific Geosynthetic. Use the selection boxes to choose the attributes: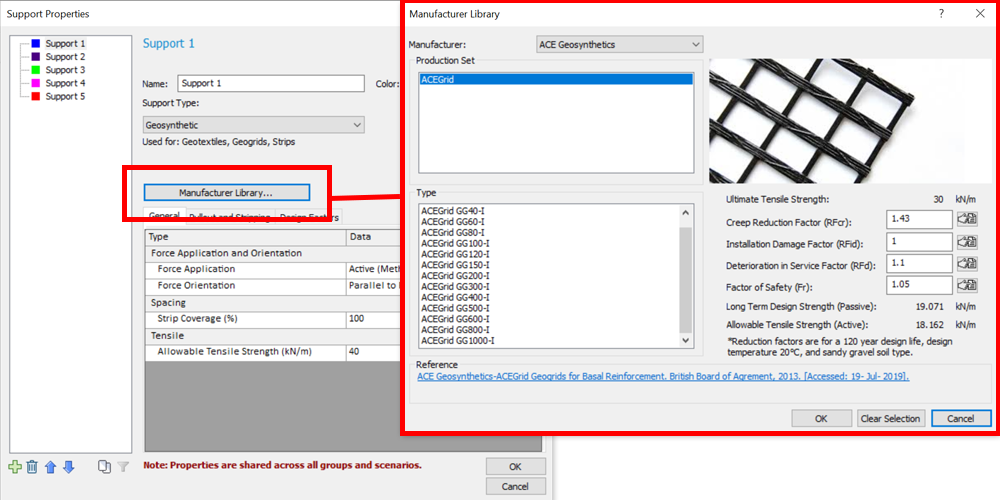 Manufacturer
Type
Production Set (geotextiles)
Strength properties of the geotextile
3. As you make your selections, the following properties will be automatically displayed in the dialog:
Ultimate Tensile strength (geotextiles)
The following parameters are available which will be used to calculate Long Term Design Strength (Passive) / and Allowable Tensile Strength (Active):
Creep Reduction Factor (RFcr):
Installation Damage Factor (RFid):
Deterioration in Service Factor (RFd):
Factor of Safety (Fr):
Click on the icon beside each input text box for suggested factor values as shown below:

You can hover over to the table and you will be able to select the suggested values.
Long Term Design Strength (Passive) uses all the factors except Factor of Safety (Fr) while Allowable Tensile Strength (Active) uses Factor of safety in the calculation.
4. When you have finished choosing/entering the reinforcement attributes, select OK and the support type properties will be automatically loaded into the Define Support Properties dialog.
Note: For more details regarding each of manufacturer's material properties, refer to the references provided in the Manufacturer Library dialog.
MANUFACTURERS AVAILABLE
Below is the list of manfacturers available in the Manufacturer Libary for each support type. If you do not see the manfacturer or product you are looking for and would like to see this product added to the database, please use our Support Form to send us a suggestion!
Geosynthetic

Ace Geosynthetics
Geosintex
Huesker Synthetics
Maccaferri
Tencate
Tensar
Wavin

Grouted Tieback
Grouted Tieback with Friction
Soil Nail