Product Announcement
Slide2: Past, Present and Future
Published on: May 13, 2020 Updated on: Jul. 21, 2022
4 minutes read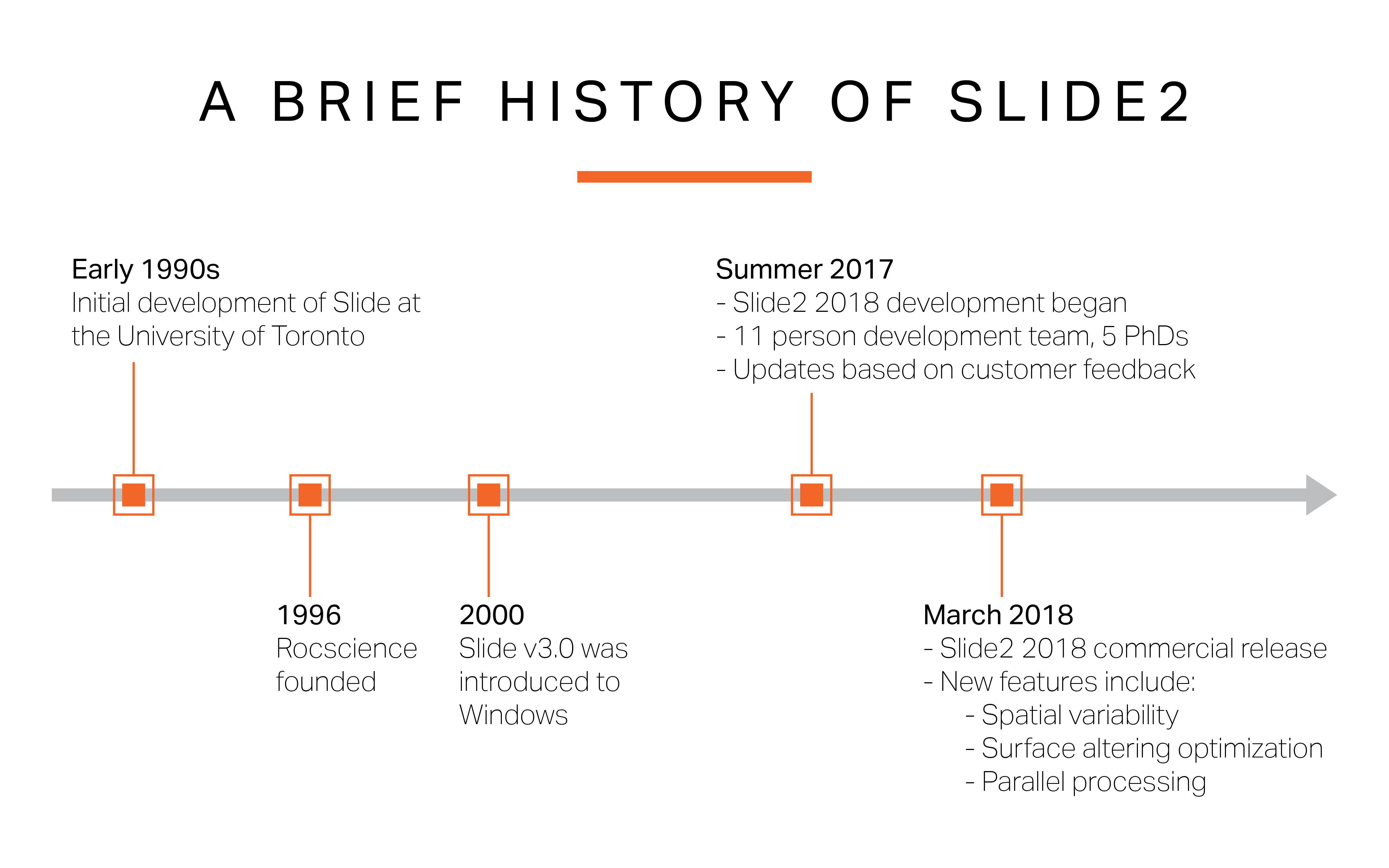 As a Rocscience customer, you already know that Slide2 is the most powerful limit equilibrium analysis software on the market today. What you may not know is that Slide2 has been around for almost 30 years. That's right and, in fact, it's precisely that long period of development, enhancement, and refinement that makes Slide2 your go-to program for slope stability analysis.
A Brief History of Slide2
The beginnings of Slide2 go all the way back to the early 1990s, when Rocscience founder, Dr. John Curran, was teaching Civil Engineering at the University of Toronto. Rocscience was just a twinkle in John's eye and Slide2 was used internally by the department for its research. It wasn't until 1996 and the founding of Rocscience that Slide2 was developed for commercial use. At that time, the software was known as "Slide" and it ran on DOS.
In 2000, Slide2 made a big step and was released on Windows, and that marked the beginning of the product's graphical user interface (GUI) and free-form geometry entry. Then in the summer of 2017, development of Slide2 2018 began with an 11-person development team that included five Ph.Ds. Slide2 2018 was released in March of 2018 and featured many additions and enhancements based on customer feedback, including support for spatial variability and Surface Altering Optimization. Finally, Slide2 v9.0 was recently released in May 2020 as part of Maintenance+, Rocscience's enhanced maintenance and support subscription service.
The DOS Days: 1990 – 2000
DOS stands for Disk Operating System and was a big deal when it came out since it allowed software to run on a personal computer instead of mainframe that you had to connect to. As shown in Figure 2 below, the user interface was rather rudimentary compared to what it is today.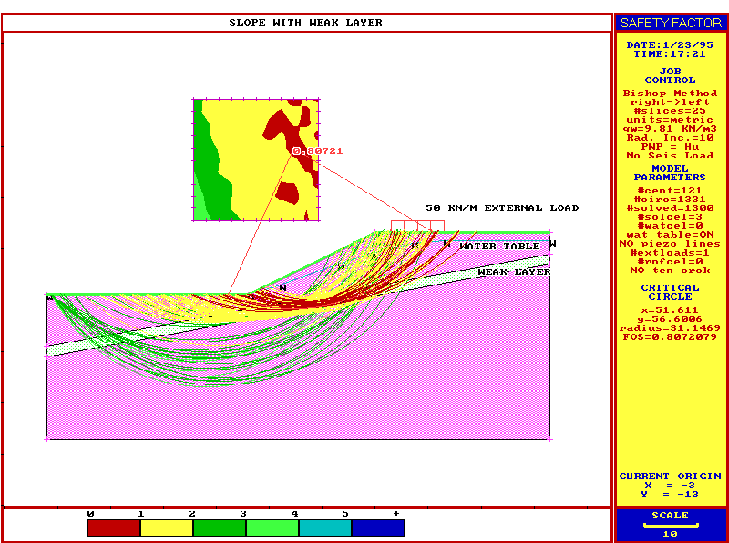 Slide2 v3.0 for Windows: 2000 – 2002
Version 3.0 of Slide2 in 2000 made big strides with its release on Windows and a graphical user interface. Not only did this version introduce free-form geometry entry but, as seen in Figure 3 below, it supported a much more sophisticated model representation.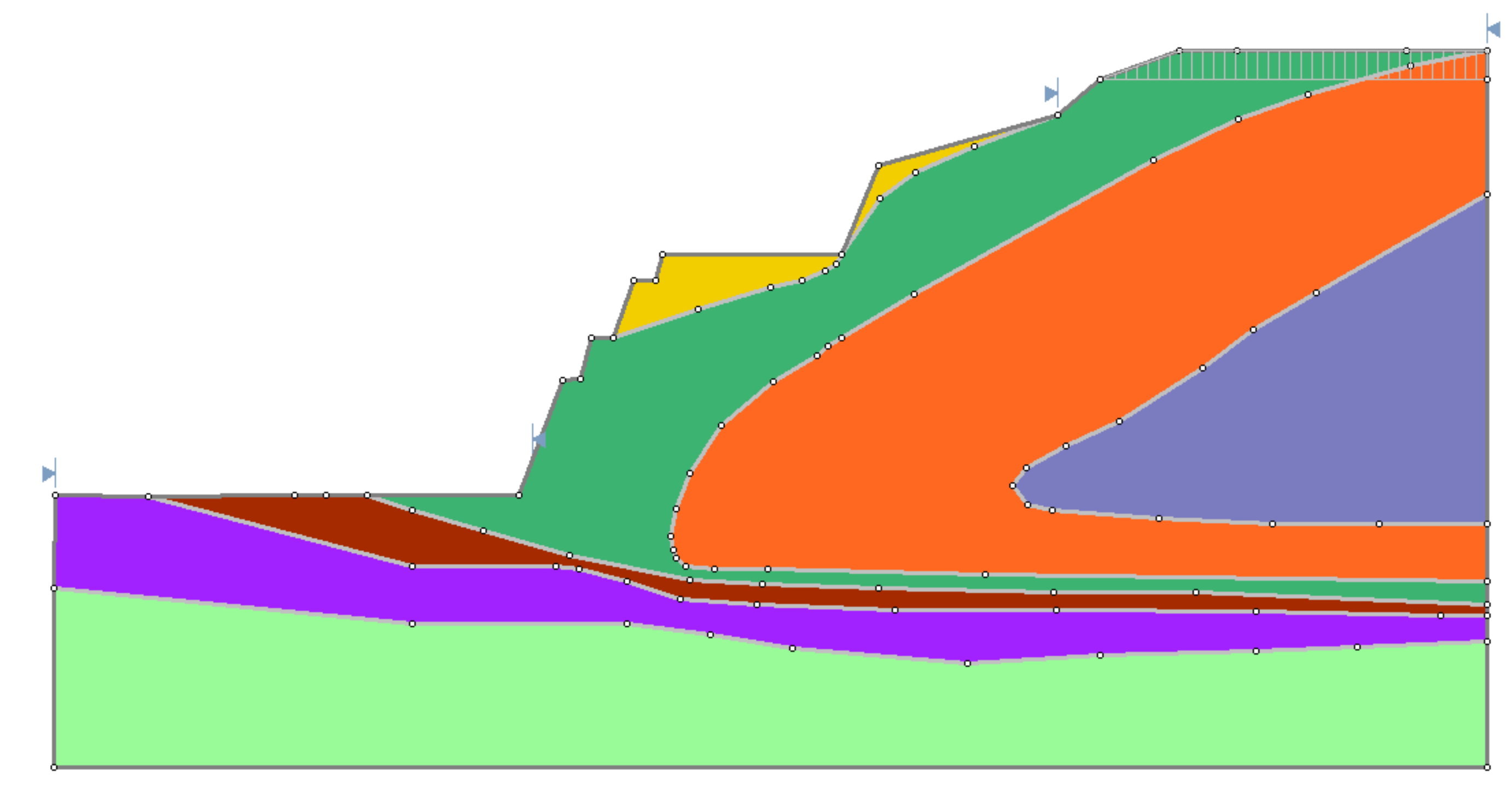 Slide2 v4.0: 2002 – 2003
The release of Slide2 v4.0 in 2002 saw the addition of some very powerful new features, including the integration of groundwater analysis, the addition of bolt models representative of real support with different modes of failure (tensile, pullout), and support for nail force diagrams.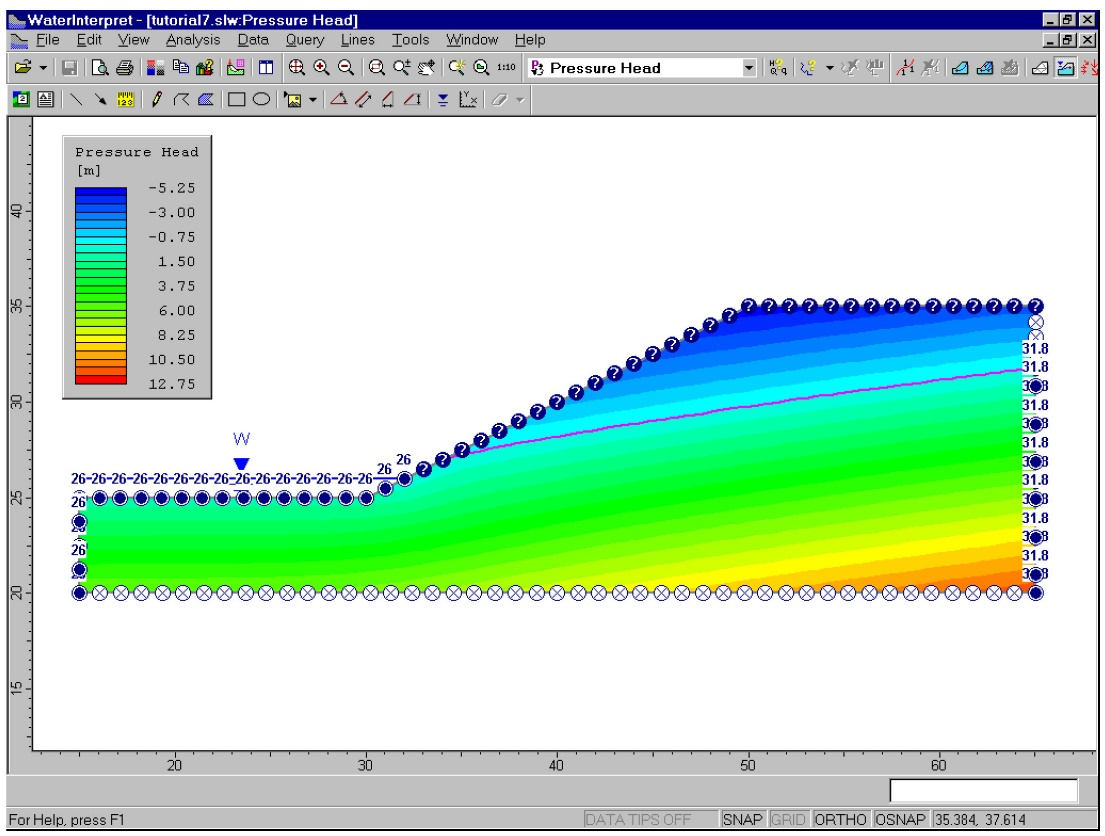 Slide2 v5.0: 2003 – 2010
Slide2 v5.0, released in 2003, introduced support for probabilistic slope analysis with local Monte Carlo optimization of slip surface vertices. This marked Slide2 as a sophisticated program able to tackle much more complex geotechnical problems.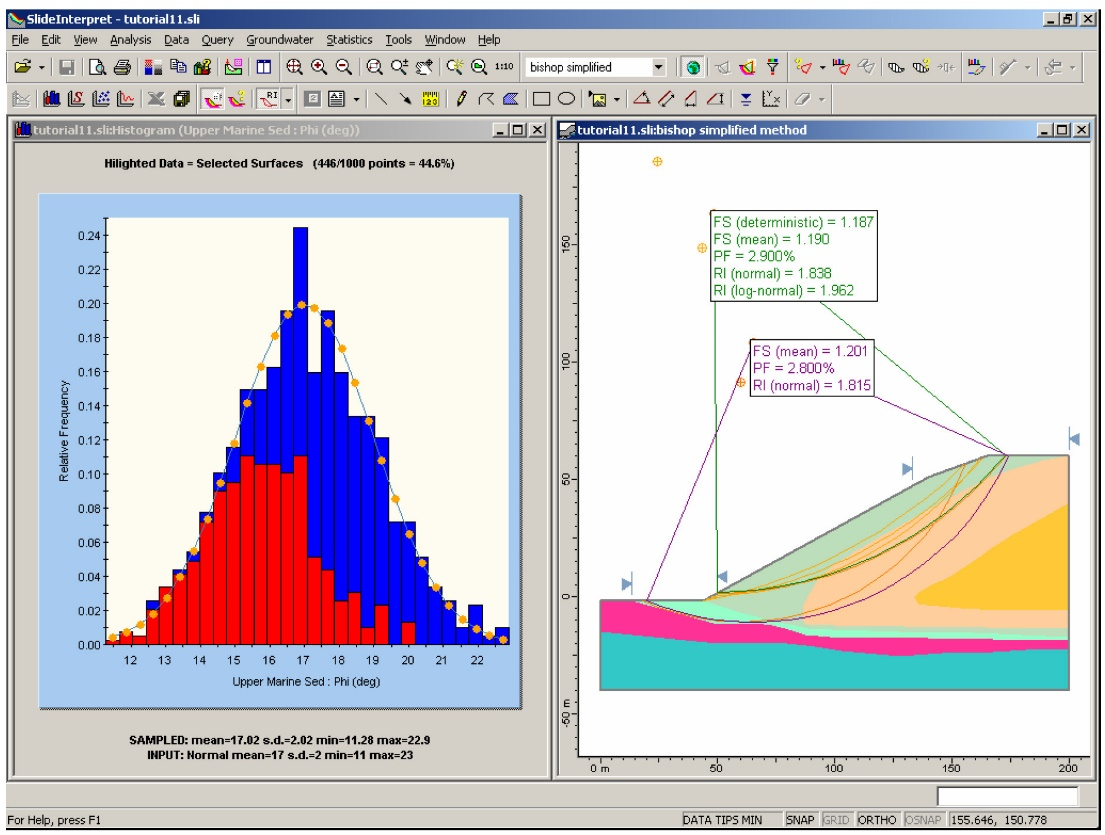 Slide2 v6.0: 2010 – 2015
Slide2 v6.0 in 2010 saw the continuation of the product's maturity with the addition of transient groundwater analysis, global metaheuristic optimization by simulated annealing, and anisotropic strength models.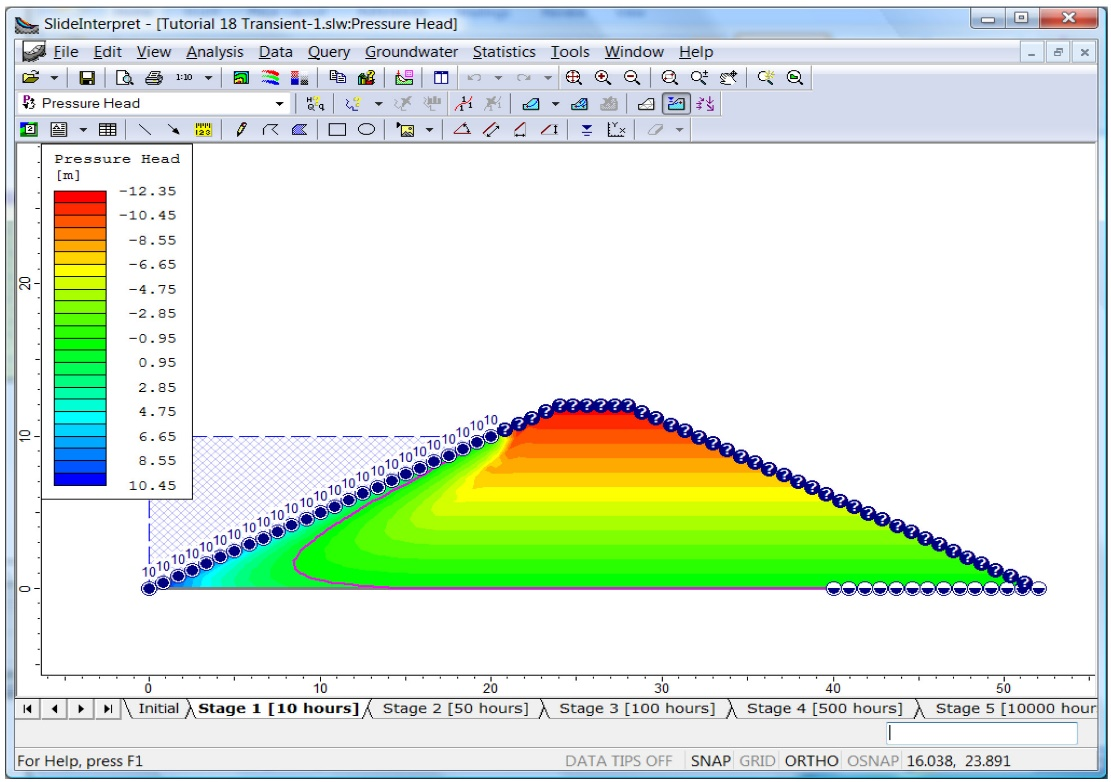 Slide2 v7.0: 2015 – 2018
In 2015, Slide2 v7.0 was released with a whole slew of new and powerful features. These included support for scenarios, the addition of soil profiles/ geological models, integration with RSPile for integrated pile support analysis, support for Cuckoo Search, and a whole lot more.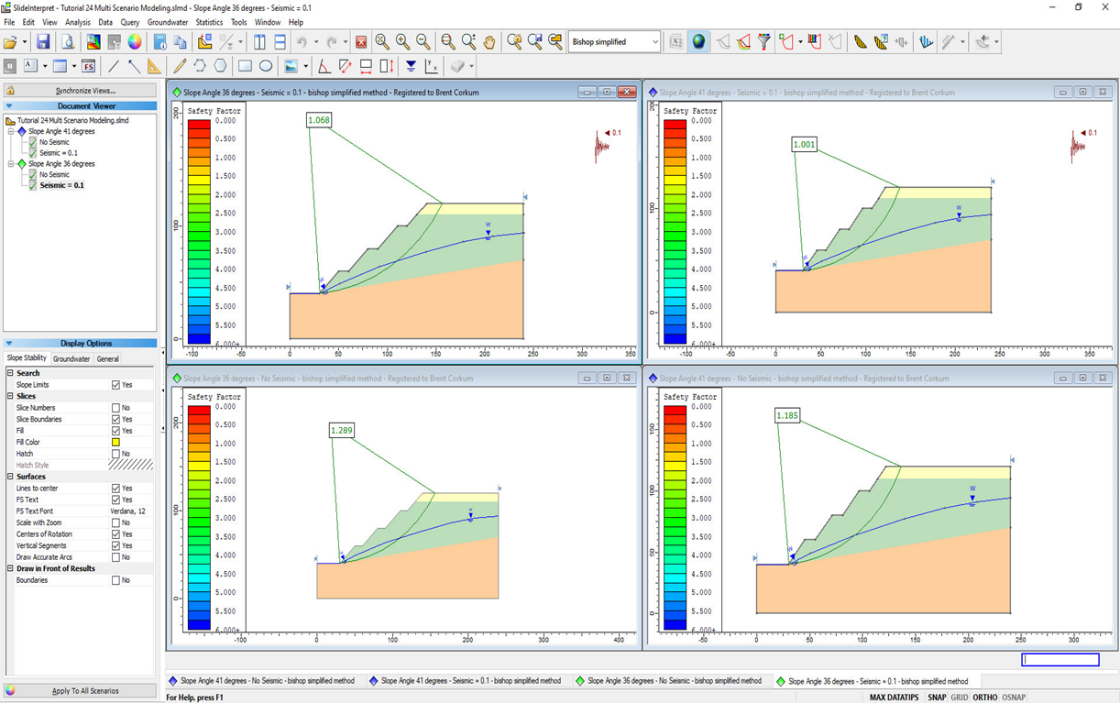 Slide2 2018 (v8.0): 2018 – 2020
In March of 2018 Rocscience released Slide2 2018 (v8.0), a major release of the software that included numerous new features and enhancements. Among these were added support for spatial variability and enhancements to slip surface search including the addition of Surface Altering Optimization (SAO) and Particle Swarm Optimization (PSO). This release also saw a ten-times performance enhancement with support for parallel computing. Additional features included support for launched soil nails, EFW piles, and weak layers.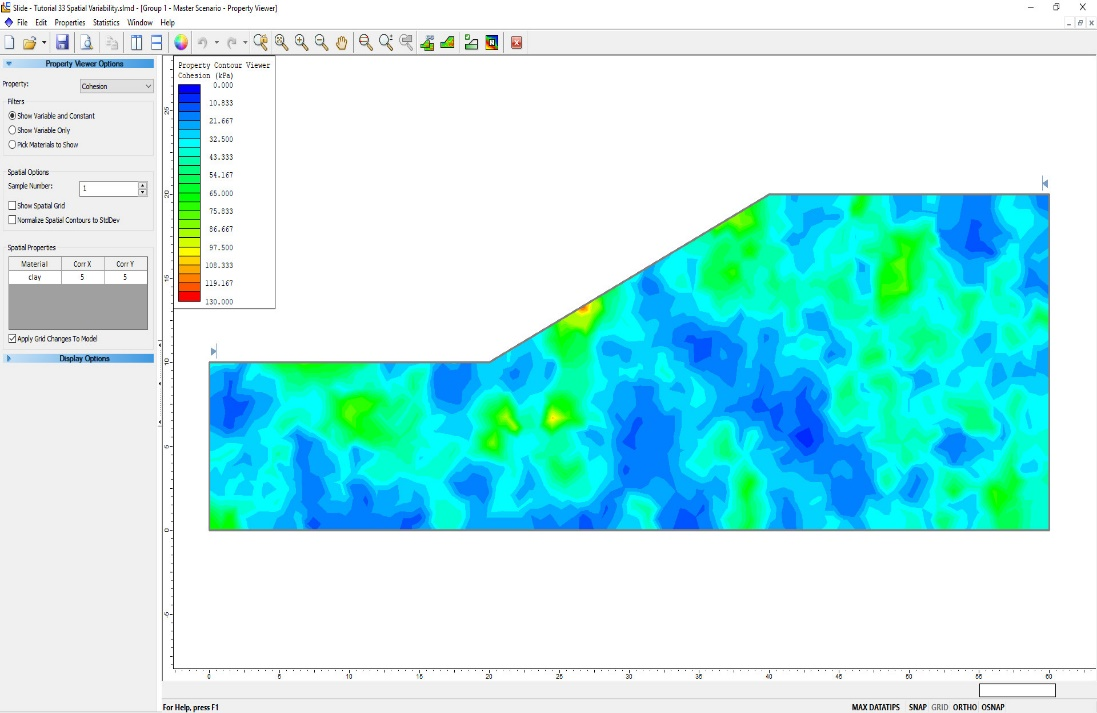 Slide2 M+ (v9.0): 2020
The latest release of Slide2 (v9.0) came out recently in May 2020. This release is the first one to come out under Maintenance+, Rocscience's enhanced maintenance and support services subscription. This release saw a brand new Report Generator, support for batch printing, response surface probability analysis, and an extensive manufacturer's support property table.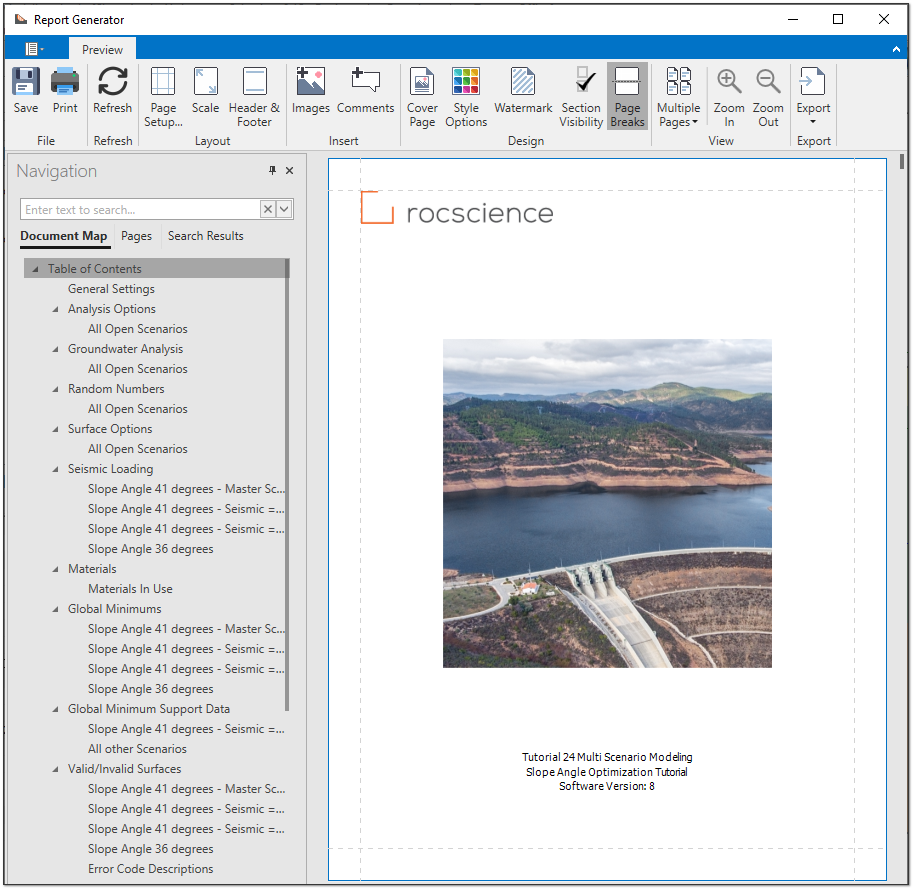 The Future
With the launch of Maintenance+, you will continue to see ongoing and frequent releases of Slide2 throughout this and the coming years. To take advantage of Maintenance+ Continuous Software, subscribe to Maintenance+.

More from Rocscience