Article
Announcing the new and robust Slide3
Published on: Dec. 07, 2018 Updated on: Jul. 05, 2022
5 minutes read
Rocscience is excited to announce the upcoming release of Slide3. This new release introduces some impressive new features and enhancements, including built-in geometry repair, a new Section tool for fully integrated and automated multi-section analysis in Slide2, a new Wedge slip surface type, and integration of deformation sensor data in the Slide3 modeling process.
Built-in geometry repair
The addition of a new geometry repair tool in the new Slide3 will enable users to fix defects in imported geometry right in the program instead of using external third-party software as in previous versions. The repair tool will tackle five (5) categories of geometry defects: Near-Degenerate, Holes, Near-Folding, Self-Intersections, and Non-Manifold.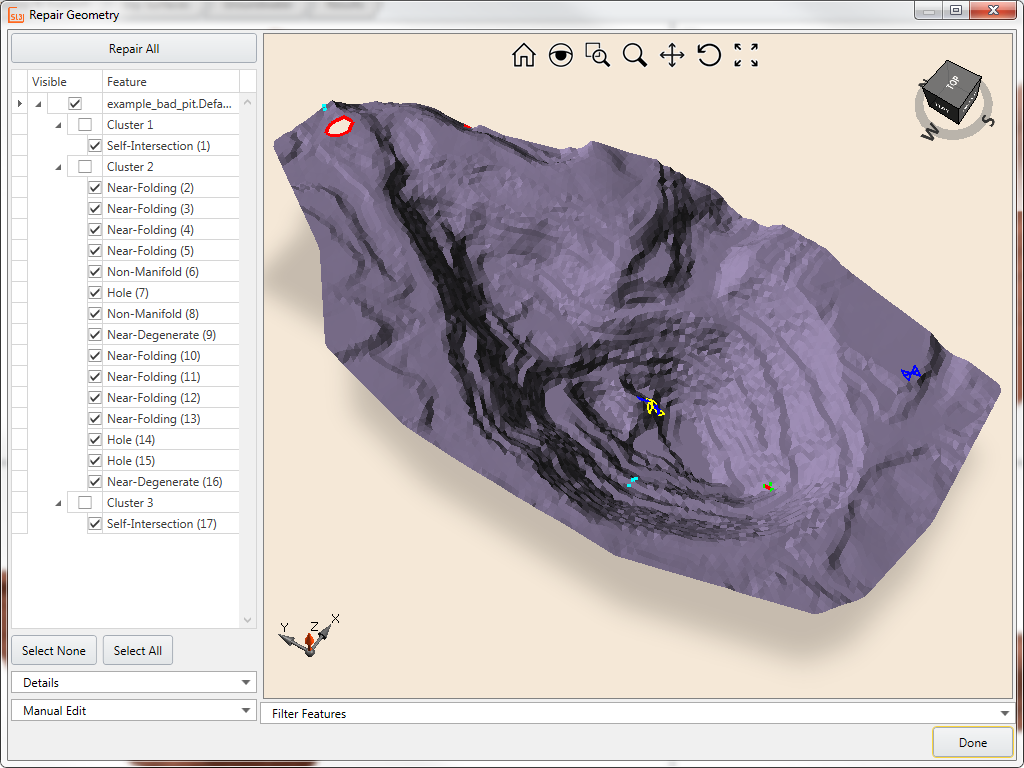 After performing the validation check in the Import Geometry process, users will see a new Repair Entities dialog displaying entities in the selected geometry with defects, organized by category. The selected entities will also be visible in the Geometry Viewport, colour-coded by category.
Users will select the entities they want to repair—all, none, or a subset—in addition to filtering them by defect category. Users will also be able to repair selected entities by manually editing them using Translate, Rotate, Scale, and Collapse operations or even to delete selected entities altogether.
More robust geometric operations
In addition to the new geometry repair tool, geometric operations in Slide3 have been made more robust. A Collapse Small Volumes option has been added to the Divide All Geometry function, which will allow the user to identify and remove small pieces resulting from surfaces that barely overlap. Geometry 3D Boolean operations, especially Divide All Geometry, and Surface Utility commands have also been improved to enhance the program's ability to handle surfaces that interact poorly.
Fully integrated automated multi-section analysis in Slide2
In the current version of Slide3, integration with Slide2 to compare 2D and 3D slope stability results is cumbersome and time-consuming. Using the Section Export to Slide feature, users capture a 2D section of the Slide3 model and export it as a Slide2 file, import the file in Slide2 to perform a 2D analysis, and then import the resulting Slide2 file back into Slide3.
Improved integration with Slide2 in Slide3 will enable 2D analysis of multiple sections of a 3D model via a single seamless and automated process. With the new Section Tool, users will create a list of sections in the model by manually specifying the section location or based on a user-specified rule. Polylines will be specified in the model and sections created along the polyline or, given the initial position of the plane, multiple planes will be created systematically to form multiple sections.
The sections will be packaged into a single file and the Slide2 compute engine will automatically be invoked to perform a 2D analysis of each section. The results will be read back into Slide3, and the global minimum surfaces and the minimum factors of safety will be displayed on the model in 3D.
New Wedge slip surface type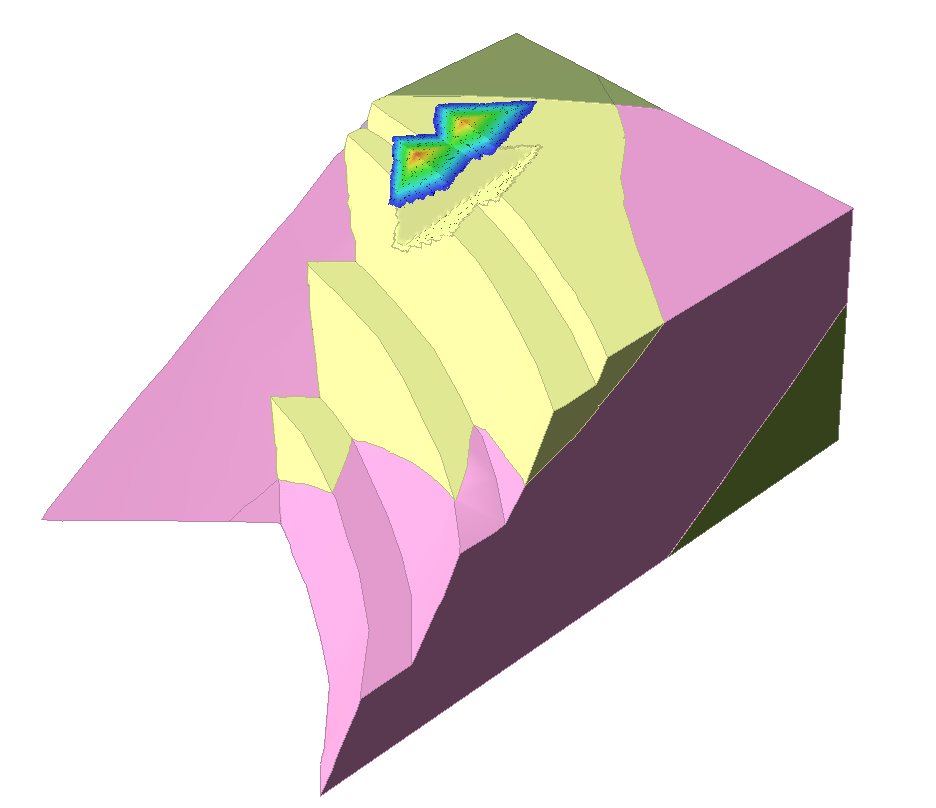 Slide3 also introduces a new Wedge surface type for use in place of the existing Multi-Planar type to search for wedge-type failure surfaces. Wedge surfaces will be define by selecting the two-joint option or the two-joint option plus a third basal joint. Users will be able to implement wedges without constraint or to constrain the wedge shape by defining a maximum persistence for each joint. Each joint in the wedge will have individual associated material properties defined by selecting Dip/Dip Direction or by inputting vector XYZ coordinates.
The new wedge-shape slope stability analysis option is an important addition to Slide3 because it can handle a new range of block-shape slip surfaces that the existing version can't address using the simple multi-planar surface option.
Integration of Intelligent Slope Design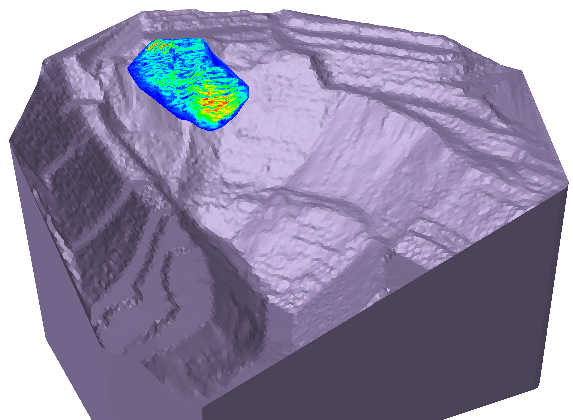 Slide3 will introduce integration of radar sensor deformation monitoring data with the Slide3 modeling process. Users will be able to import data obtained from a scan of their excavation site performed by a radar system, including displacement and temperature parameters. Once imported into Slide3, the data will be displayed alongside the 3D model. Users will have access to additional controls to change the appearance of the model, including contouring options and filtering of input data.
Rocscience has already partnered with IDS GeoRadar, a world leader in Ground Penetrating Radar (GPR) system research, and we're looking forward to forming similar partnerships with other GPR system manufacturers. To learn more, see Integration of HoloLens: Rocscience in Augmented Reality. Intelligent Slope Design in Slide3 and RS3 Slope Stability Modeling.
AR model interaction via HoloLens
Slide3 will add augmented (mixed) reality (AR) interaction with 3D models using Microsoft HoloLens, the first self-contained holographic computer that enables engagement with digital content and interaction with holograms in the world around you.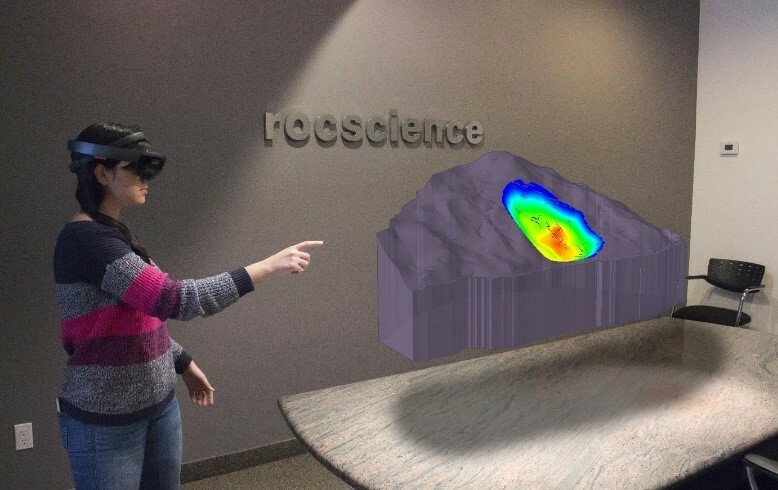 Slide3 integration with the HoloLens is via a HoloLens app built by Rocscience that acts as a 3D software viewer that allows the user to interact with a hologram of any Slide3 model. The addition of this exciting capability will facilitate data integration and collaboration among users to transform the modeling process and bring models to life. To learn more about HoloLens integration with Slide3 and RS3, see HoloLens: Rocscience in Augmented Reality.

Our products are inspired by you, and we think you'll agree these new features and enhancements in the new Slide3 make this leading 3D slope stability limit equilibrium analysis tool even better. To find out for yourself, register for a free trial below.
More from Rocscience