Report Templates Overview
RSLog comes with default templates for your borehole log or figure reports. A "template" holds the design of your report and allows you to define the page settings, header/footer, and log columns.
To access the Report Templates page:
Go to the left-hand navigation menu and select Tools > Report Templates.
From the Report Templates page, you can see the list of all your report templates. You can duplicate, edit, or delete an existing template, or you can start creating your own report template from scratch. These actions could be performed using the toolbars located at the top of tables. In general, report templates are divided into two groups shown in different tabs (see below):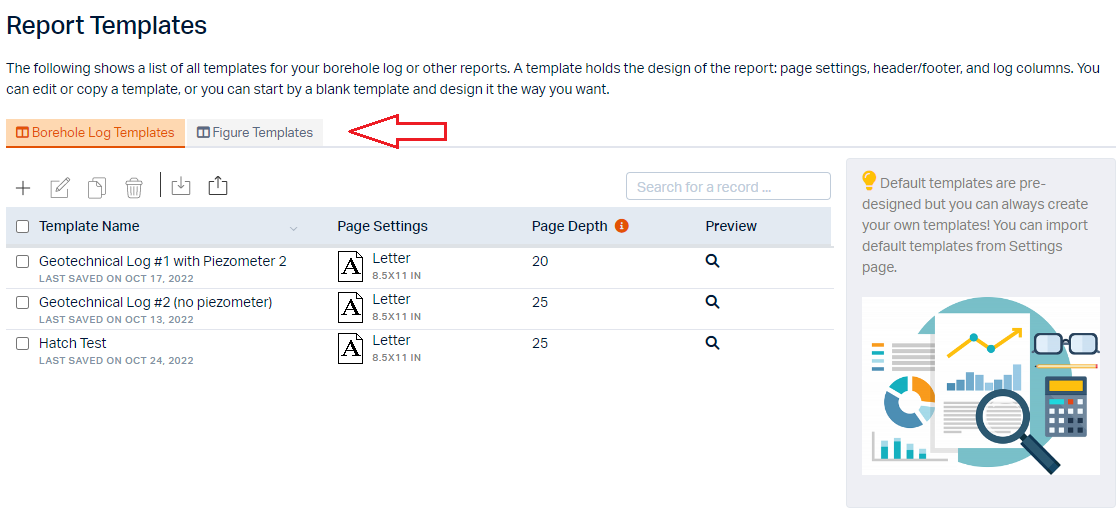 You can search for a specific report template by using the Search for a record ... textbox at the top of the tables. In RSLog, there are two types of report templates:
Figure Templates - these are for the reports that contain a graph, table, or map. Examples of a Figure Template include cross section figure, test hole locations map figure, and project location map figure.
Borehole Log Templates - these templates define the structure of your borehole logs.