Cross Section Overview
In RSLog, there are tools to create and design cross sections (geologic soil profiles) including multiple boreholes.
To access this page:
Go to the left-hand navigation menu and select Data Entry > Cross Section.
The features on this page allow user to draw cross section lines on plan, starting from a borehole and connecting the line to the next borehole(s) as required.

Creating a Cross Section
To Create a Cross Section:
Click in the red circle area to select the borehole you want to start with. Please note if you click outside the red circles, the borehole will not be added to the cross section.
Click in the red circle area representing the next borehole. Repeat the step to select multiple boreholes as needed.
Double click on the (red circle of the) last borehole in the cross section. By doing this, you indicate that you have selected all the boreholes participating in the cross section.
Once the 'New Cross Section' dialog is prompted, enter the Section Name.
Click Save button to save section.
You can always edit the section name by clicking the 'edit' icon.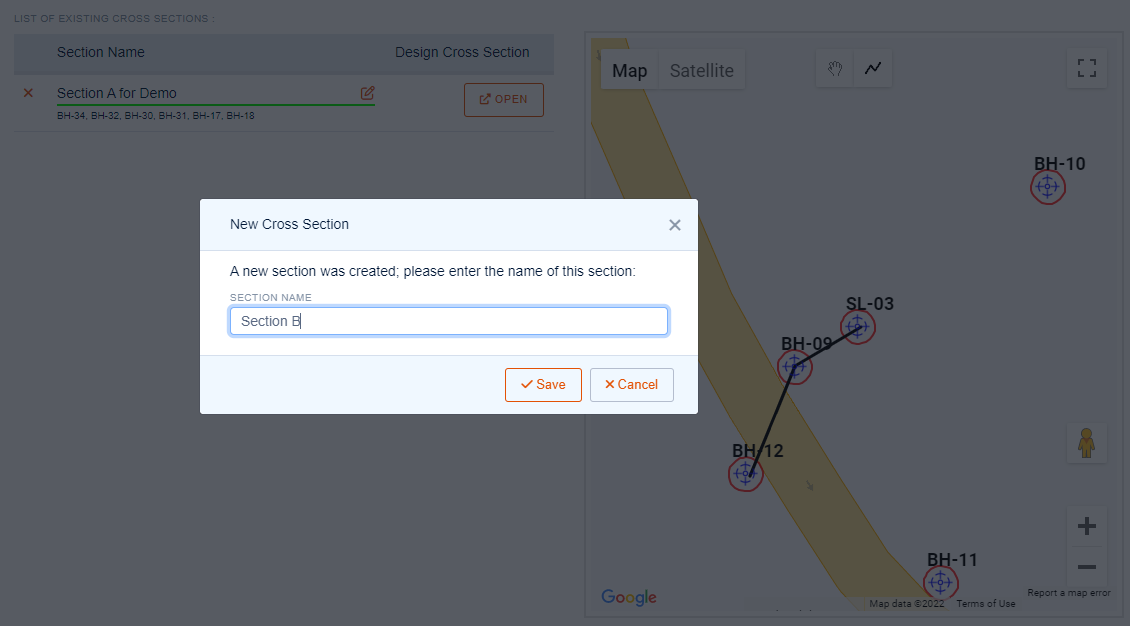 Designing a Cross Section
To start designing or editing a cross section, click the Open button beside a section in the list. This will open the Cross Section Designer.