Test Holes
In RSLog, the Test Hole page is where users enter and edit their test hole data.
Note: In RSLog the term "test hole" is used interchangeably for borehole, auger hole, test pit, trial pit and alike.
To access this page:

Go to the left-hand navigation menu and select Data Entry > Test Holes.


The page should appear as follows:


Adding/Editing Test Holes
To add a new test hole:
Click + New Test Hole to begin entering test hole data.
To edit an existing test hole:
Click on the cogwheel icon next to the test hole and select Edit.
After selecting either option you will be taken to a new page for entering/editing your test hole data. This page consists of several tabs for entering test hole data including:
General
Samples
Field Tests
Comments
Stratigraphy
Boring Methods (Note: this option is only visible when Drill Hole is selected as your Test Hole Type)
Drill Runs (Note: this option is only visible if Rock Features is turned on)
Discontinuities (Note: this option is only visible if Rock Features is turned on)
Groundwater Monitoring
Piezometer
The page should appear as follows: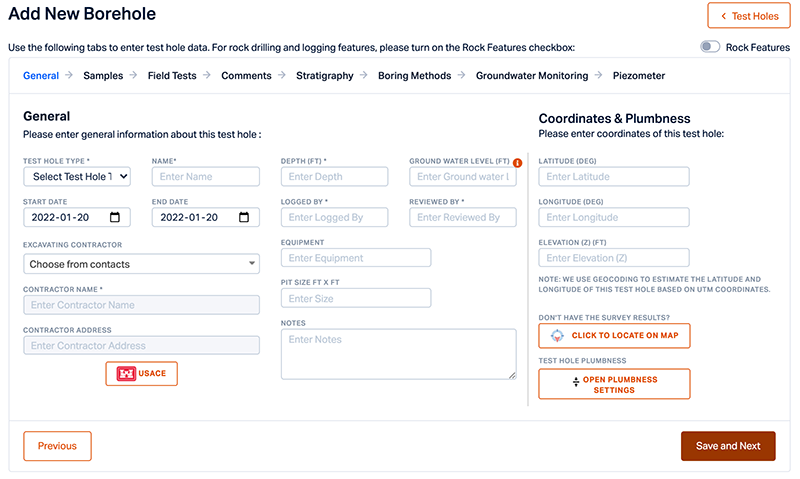 General tab
In RSLog, test hole data is entered in different tabs accessed from the top of the page, beginning with the General tab. This tab is where you enter general details such as name, depth and test hole type.
Test Hole Type
Generally, a test hole is made either by 'drilling' or by 'excavating'. As a result, the drop down options for Test Hole Type are either:
Drill Hole (borehole): any type of hole drilled manually (e.g. hand auger) or using machinery (i.e. a drill rig).
Test Pit (trial pit, trench, pit): typically implies larger hole typically dug by shovel or an excavator.
Test Hole Plumbness
The Test Hole Plumbness section allows you to specify the 'trend' and 'plunge' if you have a borehole that is not drilled vertically.
To edit the Test Hole Plumbness:
Click on Open Plumbness Settings.
Enter your Trend and Plunge angles.
Click OK.
Test Hole Coordinates and Elevation
While coordinates are not necessarily required for a test hole, to benefit from the other RSLog features such as GIS or 'cross section' design, we recommend that even if you don't have UTM coordinates for your test holes, you should specify their locations on the map by clicking Click to Locate on Map. This way RSLog will save the geographic coordinates of the test holes.

Please note that relative or absolute coordinates are required if the test hole participates in a cross section
Samples
On the Samples tab, you can add a list of all samples taken from this test hole. You can also specify start and end depth for each sample.
Note: If your samples are identified by one depth only, leave the To field empty.
Sample data can be entered manually or imported using a CSV files. To enter your sample data manually:
Click + New Sample.
Enter the sample details.
Click Save to add the sample and close the dialog.
Click Save and Next to save your sample data and­­ go the next tab.
Field Tests
RSLog supports various types of field tests, from Standard Penetration Test (SPT) to Vane Shear Test or Manual DCP sounding.
To add Field Test data:
Go to the Test Type drop-down menu and select Dynamic Cone Penetration Test.
Enter Depth and Value.
Click Add or press Enter to save the record.
Repeat the same steps to add more records for your Field Test.
The graph is refreshed as you enter field test data. You can save the graph as an image, or export data to CSV format.
Note: If a second type of field test is conducted in this test hole, after completion of data entry for the first field test, simply select the second field test type from the dropdown list and proceed with data entry.
Import Field Test Data
If you already have your field test data, click on the Import Data button, and select the CSV file to import the data into RSLog.
Comments
The Comments tab allows you to add comments for specific depths along the test hole. These comments are shown in the borehole logs.
To add a Comment:
Click + New Comment.
Enter the Depth.
In the Comment field enter descriptions for test hole (e.g., slight seepage at 5ft depth)
Click Save to save the comment.
Stratigraphy
The Stratigraphy tab is used to enter different subsurface soil or rock layers that were encountered during the field investigation.
To add a New Soil Layer:
Click + New Soil Layer.
Enter the depth to top and bottom of the layer in ft. (i.e., From Depth and To Depth)
Enter Layer Title.
Select the Layer Symbol (or hatch style). This is the hatch or shading shown for this layer in the borehole log.
From the drop-down menu, you can see a list of USCS and AASHTO standard soil classifications to choose from. Select your preference.
In the Layer Description field enter relevant information

Enter information for Line at the bottom of layer to specify the type, thickness, and color for the line drawn at the bottom of this layer in the borehole log.
Under Eng. Analysis enter the estimated unit weight of this layer.
Click Save to save the entry

Note: Sometimes you have multiple test holes in the same project with similar stratigraphy. To save data entry time, you can copy data from another layer into this layer using the Copy button.
Boring Methods
For drill holes, you can specify details about the boring method used

Note: This tab is not visible when Test Pit is selected as your Test Hole Type
To enter your Boring Method:
Click +New Boring Method.
Enter the depth to top and bottom of the layer.
Select the Drill Method from the drop-down list and enter the Type of Drill Rig.
Click the ✔️Save button.
Groundwater Monitoring
When groundwater level is present in the test hole, use this tab to enter groundwater measurements. Simply enter the groundwater depth, date, time, and weather condition at the time of measurement once the Groundwater Info tab appears. You can enter multiple groundwater measurements for each test hole.

To enter groundwater readings:
Click + New Reading and enter water level, date, time, and weather condition.
Click the ✔️Save button.
Click + New Reading again to add another record.
Piezometer
If a piezometer is installed at this test hole, use this tab to enter piezometer data. You can specify the type of piezometer and the 'plug' used at the top of piezometer.
From the Piezo Type drop-down list choose your preference and enter the Plug Type.
Start adding 'pipe segments' by clicking + New Pipe Segment.
Note: Each pipe segment is shown differently in the borehole log, depending on the type of pipe and how that segment is backfilled.
Enter information once the Piezometer Info tab is prompted.
Hit the ✔️Save button.
Add as many pipe segments as necessary.
Click Finish to save your Test Hole data.